Japan Stocks Rise as Energy Shares Gain on Higher Crude Prices
Report shows Japan's economic growth was faster than estimated

Tokyo trading volume sinks ahead of BOJ, Fed policy decisions
Japanese stocks rose as energy shares advanced following crude futures higher and after data showed the nation's economy grew more than initially estimated last quarter.
The Topix index climbed 0.8 percent to 1,350.97 at the close in Tokyo after earlier falling as much as 0.6 percent. The Nikkei 225 Stock Average added 0.9 percent to 16,830.92. The yen strengthened 0.3 percent to 107.03 per dollar, rising for a sixth day out of seven. Revised data on Wednesday showed Japan's economy grew 1.9 percent on an annualized basis in the first three months of this year, higher than a preliminary estimate for a 1.7 percent gain.
"Oil is now above $50 a barrel and that's supportive of risk-on," said Chihiro Ohta, a senior strategist at SMBC Nikko Securities Inc. "We're basically still waiting for next week's central bank meetings in the U.S. and Japan."
Trading volume on the Topix was 20 percent below the 30-day average as investors awaited policy decisions from central banks in Japan and the U.S.
The Bank of Japan meets on June 16 to review monetary policy, a day after the Federal Reserve decides whether to raise borrowing costs. On Monday, Fed Chair Janet Yellen said the economy is making progress despite signs of slower jobs growth, making investors more comfortable about the prospects for gradual rate increases. Odds for a boost to rates by July fell to 18 percent from more than 50 percent a week ago.
"There's probably no U.S. rate hike in June, but Yellen hedged her bets for July, so the outlook for currencies is a bit muddled for the time being," said SMBC's Ohta.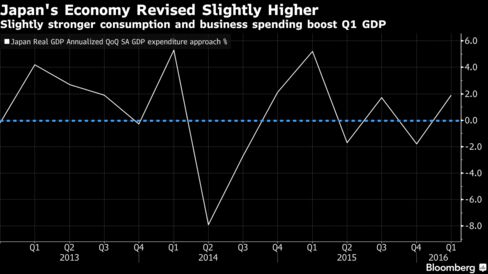 Japan GDP
Japanese shares closed the day higher even as the yen climbed following the growth data. The revision in Japan's GDP was helped by a fractional increase in private consumption and business investment that dropped less than first thought. The upward revision may be some relief to Prime Minister Shinzo Abe, who is struggling to revive Japan's economy and decided to postpone an increase in the sales tax.
"Although it was revised up, growth is still pretty low," said Hideo Kumano, chief economist at Dai-Ichi Life Research Institute in Tokyo. "It's fairly evident that we're not seeing a big pickup in growth. Japanese stock volatility is mostly coming from the currency market."
Closing In
Futures on the S&P 500 Index added less than 0.1 percent. The underlying U.S. gauge on Tuesday closed within 1 percent of an all-time high as the gain in crude prices lifted energy stocks.
Oil and coal producers were the second-biggest gainers among the Topix's 33 industry groups, with crude importer Showa Shell Sekiyu KK climbing 2.7 percent, while refiner Idemitsu Kosan Co. added 1.9 percent. West Texas Intermediate oil added 0.1 percent on Wednesday after climbing above $50 a barrel on Tuesday for the first time since July. U.S. crude stockpiles are estimated to have fallen for a third week, trimming a glut.
Fuel Surcharges
Airlines led gains among the 33 Topix industry groups despite the surge in crude prices, after the Nikkei newspaper reported fuel surcharges for passengers flying from Japan will continue to be zero in August and September, boosting demand. ANA Holdings Inc. climbed 1.6 percent, while Japan Airlines Co added 2.3 percent.
Panasonic Corp. added 3.7 percent after Elon Musk re-affirmed in Twitter posts that the Japanese company was the exclusive supplier of batteries to Tesla Motors Inc. The Nikkei newspaper reported at the weekend that Samsung SDI Co. had supplied a shipment of battery cells to Tesla.
Toilet-maker Toto Ltd. declined 1.7 percent after SMBC Nikko cut its rating on the stock, citing the stronger yen and a recently delayed sales-tax increase, which was expected to boost demand in the short term. Kyushu Electric Power Co. dropped 1.7 percent after saying the April earthquake in Kumamoto, southwestern Japan, would result in repair costs of 10 billion yen ($93.4 million).
Before it's here, it's on the Bloomberg Terminal.
LEARN MORE