Dark Days at the Folly as Nomura Traders Join Europe's Jobless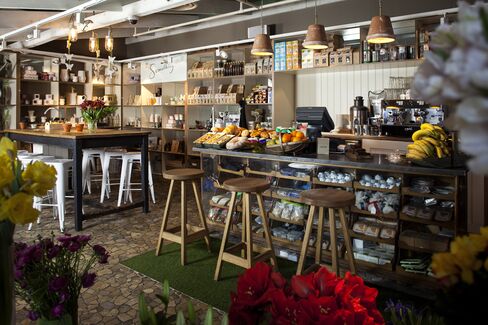 Hundreds gather in pubs after bank shuts London equities unit

Fights over pay, documents show human cost of cutting jobs
They made their way in dribs and drabs. Hundreds of displaced bankers, shuffling up Suffolk Lane to All Bar One and along Upper Thames Street toward the Folly, the only pubs in the City of London open that early on an overcast Tuesday morning.
It was April 12, and Tokyo-based Nomura Holdings Inc. had just informed about 600 traders, analysts and advisers that they were no longer needed. The bank was pulling out of equities in Europe, affecting roughly one in five employees in the region. They'd been herded into conference rooms at 8:20 a.m., where the news was relayed in perfunctory speeches by senior managers and human resources personnel: Gather your belongings, leave your key cards at reception and exit the building. Thanks for everything.
The shell-shocked men and women sipping pints and consoling each other had become part of a growing population. Faced with a toxic blend of zero-interest rates, stiffer capital requirements and a collapse in trading revenue, banks including Barclays Plc, Deutsche Bank AG and Credit Suisse Group AG have announced large cuts to their European operations in recent months. Even U.S. firms, with higher profitability, are trimming staff.
Nomura's experience -- including ensuing battles over pay, conduct and intellectual property -- is far from unique and demonstrates why banks have been so loath to heed investors' calls to slash entire business lines. Overcoming inertia was difficult in the case of a Nomura unit that rarely made money; it's only harder for businesses that are already profitable and have some prospect of a revenue rebound.
"The decision to close businesses is not one that Nomura took lightly," the bank said in an e-mailed statement. "However, we have taken decisive action, which allows us to focus on areas where we have a competitive advantage."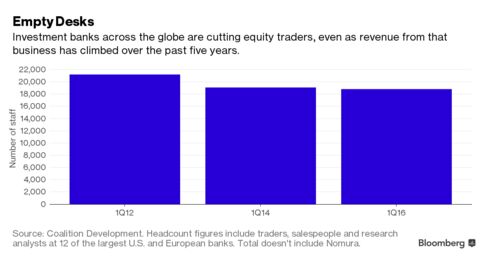 Angel Lane
Nomura expects the move, which also includes cuts in the Americas, will trim $600 million to $700 million a year in expenses, according to people with knowledge of the matter, easily offsetting the $148 million in severance-related costs. This account, based on interviews with current and former Nomura employees, highlights how, for both a bank pulling the trigger and those on the receiving end, the announcement of job cuts is just the beginning of a painful process.
At One Angel Lane, Nomura's stylish, eco-friendly European headquarters, employees have learned to filter out rumors of impending cuts. The division has only made an annual pretax profit once since it was bought from bankrupt Lehman Brothers Holdings Inc. in October 2008 -- a fact so often mentioned one half-expects it to be printed on employees' business cards.
On April 11, though, the noise was louder than usual. A senior executive had let slip to a colleague at a barbecue that he was dreading the following week because the bank was shutting down equities. By the time media reports of unspecified job cuts in the U.S. and Europe appeared at lunchtime, all semblance of work had ground to a halt. Desk heads asked their managers what was going on. According to one of those doing the asking, they were told there was nothing to worry about.
That changed early the next morning when e-mails went round ordering staff to attend a compulsory meeting. Research analysts and salespeople caught the elevators up to the 11th floor; traders congregated on the third. By 9 a.m., it was official. Everyone was given an "at risk" letter, in which the firm offered to help them find alternative roles over the next 45 days, but they knew it was typically just a formality.
Stealing Candy
Among the bankers who stayed in the pubs until late in the evening, seemingly attempting to stave off the inevitable by remaining in the financial district, there were at least some expressions of relief. Nomura had already conducted one round of restructuring, in 2012, following the appointment of Koji Nagai as chief executive officer. Unlike his predecessor, Nagai was openly skeptical about Nomura's place in a saturated and tightly regulated European market. The whiff of insecurity pervaded the trading floor.
The bank went on a cost-cutting drive and, under the direction of a new compliance team hired from UBS Group AG, started to clamp down on even minor breaches to company rules. Staff members were chastised for sending presentations to their personal e-mail accounts to work on over the weekend. One group of traders was threatened with dismissal after being caught on closed-circuit TV stealing candy from a vending machine.
For the newly unemployed, one question loomed large: Would they still get a bonus? Nomura's financial year finished at the end of March -- well before any decision was announced regarding job cuts. Some traders and bankers assumed that, since they'd worked a full year, they would still receive an award.
They were wrong. On May 9, Nomura wrote to staff notifying them they would get nothing. Discretionary bonuses, the letters pointed out, were based on factors including future value to the company. Some bankers are now considering challenging the decision, citing a 2000 case in which a departing Nomura prop trader successfully sued the firm for 1.35 million pounds ($2 million). Nomura declined to comment on the bonus decision.
Disciplinary Hearings
A second letter landed on the doorsteps of a handful of employees later that month, summoning them back to the office for a disciplinary hearing. In the hours before the cuts were announced, about five analysts had forwarded themselves documents they might need if they lost their jobs: research reports, Excel models and, in at least one case, a list of clients.
Nomura, like most banks, prohibits employees from forwarding any work documents to personal e-mail accounts. In tense meetings, the individuals explained themselves and asked for leniency. The bank is now considering what action, if any, to take. Possibilities include firing them for gross misconduct, thereby depriving them of severance pay and making it hard to find a job elsewhere; or handing out written warnings that will show up in a reference to a prospective employer. The analysts, who range from a junior associate to an industry veteran, fear that any measures will hamper their efforts to find alternative positions at a time when the industry is retrenching. Nomura declined to comment on the situation.
Separately, several former employees have asked the company to provide them with work documents they say will help them find roles elsewhere, such as their proprietary models and databases. They argue there is no reason for Nomura to refuse since it will no longer be competing in Europe. So far, no decision has been reached.
In the rush to leave One Angel Lane, many employees didn't have time to grab their belongings. Old family photographs, items of clothing and professional mementos lie in storage awaiting collection, a reminder of the human cost when a business fails.
Before it's here, it's on the Bloomberg Terminal.
LEARN MORE