Tasmania is battleground state in Turnbull's re-election fight

State still struggling to keep up with rest of Australia
The China boom came to Tasmania the moment model Zhang Xinyu posted a selfie from Shanghai cuddling a lavender-stuffed teddy bear named Bobbie made at Robert Ravens' farm.
The picture went viral, creating so much interest in the bears that Chinese tourists began scaling Ravens' fences after closing time to frolic in his purple lavender fields. Three years on, the farm in the Australian state's north still attracts up to 1,000 Chinese tourists a day in peak season. "Northern Tasmania is going through a rare period of sunshine and China is underpinning that," says the farmer, 71.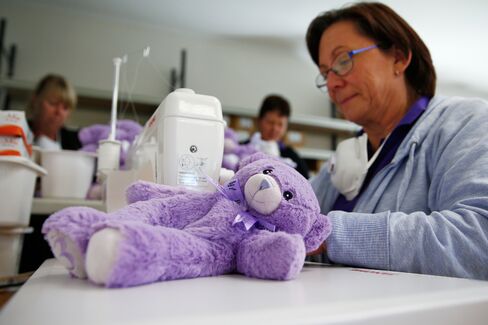 Tasmanian-branded exports to China, including salmon, apples, cherries and education, have soared 37 percent since a 2014 visit to the state by China's president, Xi Jinping, bolstered trade ties. Tourist numbers are up 15 percent over the past year -- the most of any state -- and the economy is growing at the fastest rate in six years.
As a July 2 federal election looms, Prime Minister Malcolm Turnbull is counting on that China-driven growth to sustain his appeal in northern Tasmania, where his ruling coalition holds the region's three lower-house districts by a margin of 4 percent or less. His challenge will be to woo voters who feel left out of the China bonanza and are suspicious of foreign investors snapping up the state's prized assets.
For an insight into Turnbull's battle for western Sydney, click here.
"The reality is that many vulnerable people in the island's north are still doing it tough," says Richard Eccleston, a political analyst at the University of Tasmania. "For them, the idea that China may be some kind of savior could seem naive."
Standing cold and drenched on the side of a rainy street in Burnie, an industrial port town of 20,000 people that has struggled for traction since the 2010 closure of a paper mill, unemployed laborer Peter Holness holds a sign in front of traffic saying he's "willing to do anything" for work.
"We see a few more tourists here now, but they can't do much to help me get a job," says Holness, 37, who remains undecided about who to vote for. For him China has negative connotations, such as the sale earlier this year of nearby dairy farm Van Diemen's Land Co. to a Chinese businessman for A$280 million ($209 million). "It should be in Tasmanian hands so the money stays here, not sent overseas."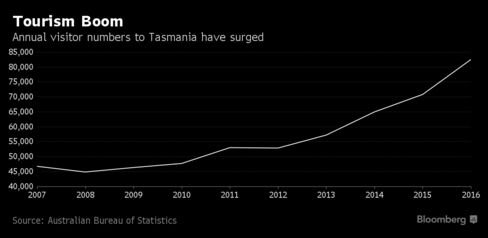 Chinese purchases of agricultural land have become a contentious topic throughout regional Australia, even though such buying only accounted for about 4 percent of foreign investment at the end of 2014.
Why Australia's China-Dependent Economy Isn't So Keen on Chinese Money
Popular Sydney-based radio announcer Alan Jones branded the Turnbull government's decision to allow the sale a disgrace, and businesswoman Jan Cameron started a website called "Save the Farm" to block the sale -- even though VDL had never been owned by Australians in its 191-year history.
"There was misinformation about the sale which didn't have any basis in reality," says David Beca, chief executive officer of Van Diemen's Land. "The Chinese buyer was prepared to invest a significant amount of money not just to buy the business, but to bring it to its full potential."
With Chinese owner Moon Lake Investments aiming to fund an 80 percent increase in milk production within five years, Van Diemen's Land worker John Gardner says his nearby hometown of Smithton is benefiting from the sale.
"Things are picking up," says Gardner, 40, taking a break in the milking shed. "The Chinese still need someone like me to feed and milk the cows. Chinese people are no different to anybody else."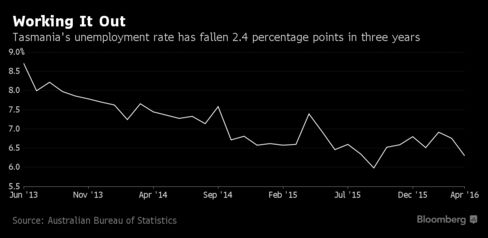 The issue of foreign investment may play into the tight election race, with the latest Newspoll showing Turnbull's Liberal-National coalition tied with the main opposition Labor party.
Still, while dissatisfaction with mainstream politicians has risen, Australia isn't undergoing the polarization that has characterized the U.K.'s Brexit debate, or a U.S. style rise in populism.
"Australia doesn't have a presidential system and mavericks rarely rise to head their parties," according to Griffith University political analyst Paul Williams. "The main parties operate within a fairly narrow band of liberal democracy where they're fighting for the center."
Chinese Students
In the northern city of Launceston, university student Zhang Guiping, 25, says Xi's visit to Tasmania was the reason her parents allowed her to study nursing there.
"The most important thing was Xi Jinping came here so we knew it was a reliable place," said Zhang, who is from Guangzhou. Asked if she would like to stay in Tasmania after she completes her studies, Zhang shakes her head. "There's not many good jobs in Tasmania. It needs to develop."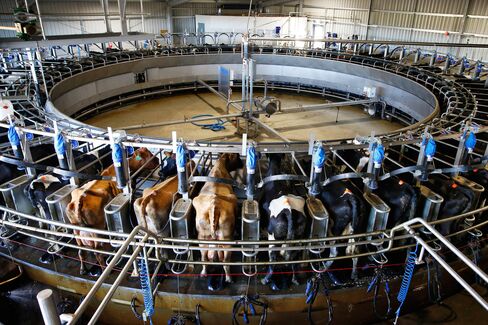 Saul Eslake, a former chief economist for the Australian arm of Bank of America Merrill Lynch, who returned to Tasmania last year to start a consultancy, said Chinese investment alone won't be enough to boost the economy. He points to poor educational standards, with only 18 percent having a university degree, as one of the main reasons per capita annual gross product is less than the national average by A$18,300.
"The stage of economic growth that China is now entering, which will be driven by household consumption and services, will do a lot more for Tasmania," Eslake said. "The recognition it got from Xi's visit is potentially significant, but it's up to the people here to capitalize on that."
Stuffing Bears
Turnbull has said the state should embrace "the great opportunities in China" that stemmed from Xi's visit. "Enterprising Tasmanians are storming the big markets of the world with the best food and wine in the world," the former banker said on the campaign trail in northern Tasmania last month. "My government is opening the doors of those big markets to them."
Back at the lavender farm, Linda Bean looks up from her workbench where she's stuffing a teddy bear with fragrant flowers. While she says she's concerned her children find it hard to gain full-time employment and is against Chinese purchases of agricultural land, she's happy the travelers flocking to the area have helped her secure a job.
"I'm amazed how crazy the Chinese go for these bears," says Bean, 52, who intends to vote for Turnbull's government due its support of the tourism industry. "They adore them and cry if they can't get them. Thank God for that."
Before it's here, it's on the Bloomberg Terminal.
LEARN MORE