A Job in Brazil No Guarantee of Paycheck, Fueling Delinquencies
Stalled paychecks cited by 26% of borrowers late on payments

Salary gaps exceed joblessness as reason for delinquencies
For the millions of Brazilians out of work and struggling to pay off their loans, the dream of landing a job might not solve their problem.
Just ask Eneas Vinieri, a tool sharpener at auto-parts maker Mecano Fabril Ltda. in Osasco. Vinieri, who's been at the company for 31 years, started to get late paychecks last year when Mecano's sales declined and its headquarters was seized in a court battle, with the longest delay lasting three straight months.
The salary gaps left the 53-year-old unable to keep up with a 9,500-real ($2,700) loan he took out to build a new room on his house, and he sold a family car to wipe out the debt. The maneuver kept him afloat until the company began paying wages again, though a court agreement cut salaries and working hours for all Mecano's employees. An official at Vinieri's firm didn't return phone calls seeking comment about his missing pay.
Many Brazilians face the same problem. In a survey this year of borrowers late on their payments, 26 percent blamed missed paychecks, up from 3 percent a year earlier, according to Recovery do Brasil Consultoria SA, the biggest distressed asset-management firm in Latin America. Unemployment was cited by 24 percent of the 25,000 people surveyed, while too much debt was the No. 1 reason, at 45 percent.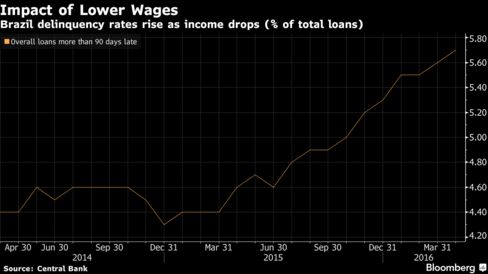 Late wages became a bigger problem at the end of last year, said Andre Calabro, who's in charge of collecting non-performing loans for Recovery. Employers in Brazil usually have higher costs in the fourth quarter, when they're required to pay bonuses that typically total about one month's salary. Brazil's recession has made that payment even harder for companies and local governments, according to Calabro, whose firm is controlled by Itau Unibanco Holding SA.
Mandatory severance protects workers in Brazil, while also acting as a disincentive for employers to cut staff. Packages in Brazil include at least 30 days salary plus three days extra per year of employment up to 90 extra days. Employers must also pay a fine of 50 percent of the existing balance in the worker's so-called FGTS, an employee-savings guarantee fund.
"The situation is so serious that a lot of companies may avoid firing employees, even though they need to cut payrolls, because they don't have enough cash to spend on severance packages," Marco Maciel, Bloomberg Intelligence's economist in Brazil, said in an interview.
For a QuickTake explainer on Brazil's recent highs and lows, click here.
Many Brazilians also have the right to tap monthly payments from an unemployment benefit paid by the federal government, though that lasts at most five months.
As Brazil heads into a second consecutive annual economic contraction, 11.4 million people are jobless, the most since the nation's statistics bureau began calculating the data in March 2012. The number of companies that filed for bankruptcy protection in Brazil almost doubled in the five first months of this year from the same period of 2015, to 755, a record, according to data provider Serasa Experian.
That's translating into more late payments by borrowers. The delinquency rate for debt not earmarked for a specific purpose that's more than 90 days overdue climbed to 5.7 percent in April, the highest since the central bank began calculating the figure five years ago.
At Itau, Latin America's biggest bank by market value, delinquencies rose to 3.9 percent of outstanding loans in the first quarter, up from 3 percent in the same period a year ago. The rate at Sao Paulo-based Banco Bradesco SA, No. 2 by market value, rose to 4.2 percent from 3.6 percent.
Government Workers
Companies and local governments are delaying salary payments as the nation's political crisis and corruption scandals intensify a downturn sparked by slumping commodity prices and climbing interest rates. Local governments unable to pay private suppliers and banks squeezing credit left many companies without enough cash for payrolls or severance requirements, Maciel said.
Of Brazil's 5,570 cities, 576 have delayed wage payments to public servants, according to the country's confederation of cities. The delay is more than six months in about 11 percent of the cases. Brazilian law restricts governments from firing public servants.
"This is very worrisome and means it will be tougher to collect late debt payments," Calabro at Recovery said. "You can't negotiate with a person who has no income, either because he's unemployed or even employed with no wage payments."
Before it's here, it's on the Bloomberg Terminal.
LEARN MORE