Poland's Loan Plan Leaves Bank Investors Cold Amid Cost Worries
Plan envisages bank costs at 30 billion zloty over 30 years

Banking stocks decline on proposal as questions remain
Fresh proposals to lessen the burden of Poland's $36 billion of foreign-currency mortgages on borrowers did little to allay concern about the potential impact on banks.
The cost of converting the mainly Swiss-franc loans into zloty has hung over the nation's banks for a year, adding to their troubles after the new government imposed the European Union's highest tax on lenders. President Andrzej Duda is reworking an initial plan that central bank Governor Marek Belka described as "evil."
Proposals put forward Tuesday by advisers to Duda would cap annual costs to the industry at about 1 billion zloty ($261 million) and spread the total over 30 years. While the measures would avoid a worst-case, "A-bomb" scenario that could crush the country's lenders, many questions remain unanswered, said Dariusz Gorski, an analyst at Bank Zachodni WBK SA in Warsaw.
"The main problem is that the mechanism for spreading costs in time isn't known, and there is no clear information on who would pay for this," said Michal Konarski, an analyst at MBank SA in Warsaw. "As long as this is unclear, investors will be cautious."
MBank shares fell 2.9 percent by 2:17 p.m., while Bank Zachodni slid 1.9 percent. The loan-conversion debate and the tax on bank assets have dented valuations. Polish banks trade at about 1.1 times book value, down from 1.6 times a year ago, according to the WIGBank index of 15 lenders.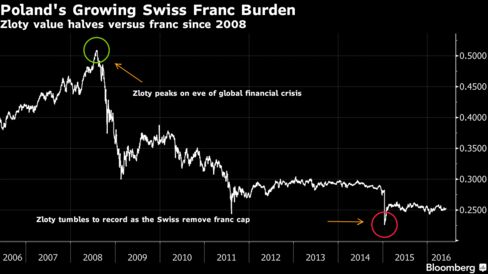 "Even if the cost is spread over 30 years it's still huge and may negatively affect banks' capacity to lend," Anders Svendsen, an analyst at Nordea Bank A/S in Copenhagen, said in a note.
The latest proposals are just a starting point. Now Duda will consider the measures and his office will prepare draft legislation, which will probably be sent to parliament by the end of June, his spokesman said on Sunday. The bill should be discussed "as soon as possible" and may take affect at the start of next year, Jacek Sasin, head of the parliament's public finance committee, told Bloomberg.
The ruling Law & Justice Party, led by Jaroslaw Kaczynski, has fallen out with Poland's allies since winning elections in October as its drive to consolidate power triggered an EU investigation and the sovereign's first credit-rating downgrade. Its move to fund social spending by taxing banks and a planned cut in the retirement age pose dangers to the economy, the International Monetary Fund warned.
Growing Burden
Poland is following other eastern European countries that moved to convert foreign-currency mortgages, which accumulated before the 2008 financial crisis as borrowers flocked to secure low interest rates. The zloty, eastern Europe's worst-performing currency this year following Turkey's lira, lost half of its value against the franc in the past six years. That has made the value of more than half of such loans higher than that of the underlying property.
Under the proposals put forth by Duda's advisers, led by Witold Modzelewski, the mortgages would be converted into zloty using one of four potential "fair" exchange rates. Banks would be allowed to create special vehicles to siphon off their foreign-currency loan portfolios.
40 Billion Zloty
The plan's cost may amount to 40 billion zloty over three decades. That would include 30 billion zloty incurred by lenders and an additional 10 billion zloty by borrowers, who would have to pay to get rid of their foreign-currency loans, Zbigniew Krysiak, another Duda adviser, told Bloomberg News.
Duda's earlier proposal would have cost the industry between 44.6 billion zloty and 67.2 billion zloty, the financial market regulator said in March. Poland's banking industry, where foreign investors control 60 percent of the assets, earned 11.3 billion zloty last year, central bank data show.
Krysiak said on Tuesday that the new proposals "ensure safety" for borrowers and lenders, and will be flexible enough to keep banks from posting losses solely based on the conversion of loans. He didn't provide details of how this would be done.
Banks could offset the plan's costs against their deferred tax assets, helping to spread out the burden over time, according to Krysiak. Creating a special-purpose vehicle is an idea backed by the panel, but one that wouldn't be included in the legislation itself, he said. The plan envisages that banks will also need to return to borrowers profits made on currency-exchange rates and that borrowers can walk away from future payments by giving up their rights to the property.
A large-scale unwinding of the loans could sink the zloty and destabilize lenders, requiring a "significant part" of Poland's foreign-currency reserves to be channeled to banks or into liquidity-boosting swap deals, Governor Belka said last week. Modzelewski, a former deputy finance minister, said the proposal doesn't envisage support from the monetary authority or the budget.
Before it's here, it's on the Bloomberg Terminal.
LEARN MORE