Greek Business Awaits Arrears Pay Down After Tax Squeeze: Chart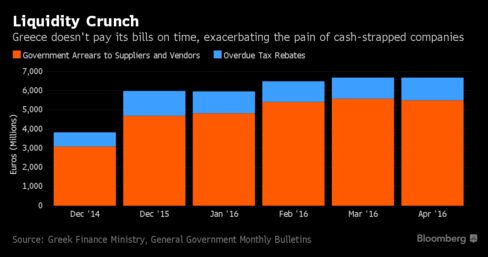 Greece's anticipated bailout loan disbursement this month will allow it to chip away at the 6.7 billion euros ($7.6 billion) of arrears to the private sector that had build up by the end of April. To qualify for the payout, the government has reached deeper into its economy and is raising taxes on everything from beer, Internet use, phone services to pay-TV, prompting businesses to say growth will be damped. The amount of time it takes for the state to pay bills has more than doubled in the past year to 115 days, according to a report by Intrum Justitia, Europe's biggest debt collection agency.
Before it's here, it's on the Bloomberg Terminal.
LEARN MORE