Chairman sees profit this year after three consecutive losses

Government pushes for charging to power 5 million plug-in cars
China Titans Energy Technology Group Co., the only Hong Kong-traded maker of electric-vehicle charging facilities, predicts charger sales to double for a second year as Chinese government incentives and policies spur demand for battery-powered cars.
The company will probably post an annual profit for the first time since 2012, helped by a doubling in charging-equipment revenue for a second straight year, Chairman Li Xin Qing said in a phone interview.
Chinese Premier Li Keqiang in February urged local government and industry players to accelerate construction of charging facilities to serve 5 million electric vehicles by 2020. China topped the U.S. as the largest electric-vehicle market last year, and the government wants new-energy vehicle sales to top 3 million units a year by 2025.
"With the government's support and our head-start advantage, we are in the best stage of development," Titans's Li said. The nation's rising electric-car deliveries may help the company maintain its pace of sales growth in the next few years, he said.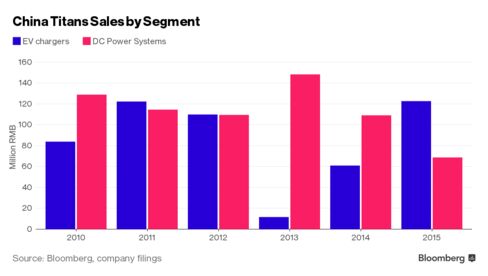 The company's shares have declined 31 percent this year in Hong Kong trading, lagging behind the 2.7 percent drop in the benchmark Hang Seng Index.
Sales Shift
Titans is in the midst of a transformation in the business segments it relies on for sales. Direct-current power systems, used in power plants and substations, generated 35 percent of sales last year, down from 45 percent in 2010. Its share of sales from charging equipment rose to 63 percent from 29 percent in that span.
Titans may consider a separate listing in mainland China for new business related to electric vehicles, Li said, without elaborating. The Hang Seng China Enterprises Index in Hong Kong trades at 7.1 times projected earnings for the next 12 months, compared with 12.6 for the Shanghai Composite Index.
Titans plans to boost profits by collecting data from vehicles and providing services such as sending owners reminders for maintenance, Li said. Titans will also add internet connectivity to its chargers so that users can check their availability real-time on mobile phones.
"Titans refers to gods with gigantic power. I would say now the god is in his youth and is about to grow in full swing," he said.
Before it's here, it's on the Bloomberg Terminal.
LEARN MORE