Advertisers Alleging Kickbacks Spur Battle With Madison Ave
Media buyers take rebates without telling clients, report says

One-sided study will cause 'substantial' damage, agencies say
Years of simmering ill will in the $600 billion global ad market just broke into open conflict: America's top advertisers have accused Madison Avenue's biggest agencies of secretly pocketing rebates from media outlets, with ad firms striking back harshly at what they called a flawed and unproductive attack.
In an eagerly awaited study, a group representing U.S. advertisers accused big ad firms Tuesday of what essentially amounts to receiving kickbacks. Media buyers connected to the world's biggest ad agencies get rebates when they buy large blocks of ad space -- many of which they neither disclose nor pass along to their clients, according to the study, commissioned by the New York-based Association of National Advertisers.
The 58-page study, performed by investigative firm K2 Intelligence, doesn't identify ad agencies or clients or lay out the size of rebates the firms allegedly retained. But in general, it said, such rebates ranged from 1.67 percent to 20 percent of aggregate media spending.
The trade group representing the world's biggest ad agencies quickly fired back, saying the ANA's "one-sided" study was not only inconclusive but also threatened to wrongly cause "substantial economic damage to all media agencies."
The report casts new light on media buying, a high-margin area of the advertising business. Media-buying arms, often connected with big agencies, purchase blocks of advertising from television, radio, print and other outlets, typically reselling it in multimedia packages for big clients. In the U.S. alone, ad spending across all media totaled $187 billion in 2015, according to research firm Strategy Analytics. Media-buying agency ZenithOptimedia, which is owned by Publicis Groupe SA, estimates global ad expenditure this year at $579 billion.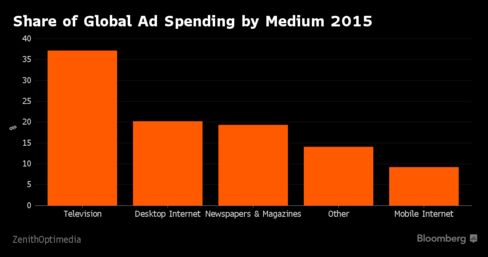 "There can't be a client out there that isn't thinking, 'Is this happening to me?' said Judy Neer, president and chief executive officer of Pile & Company, a management consulting firm that specializes in marketing and advertising relationships. "What's too bad is that those agencies that aren't doing it are getting dragged into it, and that's leaving a bad taste in every marketer's mouth about ad agencies."
Private Matter
While the existence of such rebates has long been acknowledged by the ad industry in the U.S., the subject has generally been treated as a private matter between agencies and their clients. The ANA's decision to force the issue into the open suggests that a critical mass of advertisers have concerns about what the big agency holding companies are doing with their ad budgets.
"Advertisers and their agencies are lacking 'full disclosure' as the cornerstone principle of their media management practices," said Bob Liodice, president and chief executive officer of the ANA. "Such disclosure is absolutely essential if they are to build trust as the foundation of their relationships with their long-term business partners."
Advertising is less regulated than some other media businesses, with trade bodies rather than government agencies doing much of the oversight on the major ad agency holding companies such as Publicis, WPP Plc, Omnicom Group Inc., Interpublic Group of Cos., Dentsu Inc. and Havas SA.
Rebates between agencies and vendors are accepted in Europe and many other parts of the world. While the rebates aren't illegal in the U.S., some of the practices flagged by K2 might not have been consistent with the contracts binding agencies with advertisers, according to the report. Rebates may also pose an accounting challenge for publicly traded ad-agency companies that have to conform to books and records rules consistent with U.S. securities laws.
'Non-Transparent' Practices
"Numerous non-transparent business practices, including cash rebates to media agencies, were found to be pervasive" in the digital, print, billboard and television media businesses, according to the ANA.
Those practices included the designation of rebates as "service agreements" in which media companies -- for example, TV outlets or websites -- paid ad agencies for services such as low-value research or consulting activities that were often tied to the volume of the ad agency's spending.
In other cases where agencies owned their own media inventory, ad agency holding companies directed their buyers to steer their client spending to the in-house media, where markups ranged from 30 percent to 90 percent, the report said.
The ANA, with members including Apple Inc., Wal-Mart Stores Inc. and General Motors Co., commissioned the report last year. For the seven-month study, K2 interviewed 150 individual sources with knowledge of U.S. media buying, ANA said.
GM said it has worked with its agencies to implement best practices outlined in the study. "While General Motors benefits from the insights derived from the report, we did not underwrite the funding required to create it," it said through spokesman Craig Daitch. Apple and Wal-Mart didn't immediately respond to requests for comment.
'Unverifiable Assertions'
The American Association of Advertising Agencies, or the 4As, said in a statement that it is committed to ensuring that appropriate governance practices are in place. It called on ANA to provide agencies, on a confidential basis, with all of the materials related to them.
"Without an opportunity for agencies to assess and address the veracity of information provided to K2, sweeping allegations will continue to drive attention-grabbing headlines," the 4A's said in a statement. "This does nothing to foster a productive conversation or to move our industry forward and could cause substantial economic damage to all media agencies."
Publicis, one of the major ad agency holding companies, went further, claiming the ANA had failed its members, advertisers, agencies by relying on allegations "involving unnamed companies and individuals to make broad, unsubstantiated and unverifiable assertions." Despite repeated urging by Publicis and others in the industry to name names, "the document hides behind suspicions and anonymity rather than encouraging real accountability," it said.
Publicis is committed to full compliance with the terms of client-agency agreement it signs and is committed to understanding and respecting its clients' transparency requirements, it said.
GroupM, the media-buying unit of WPP, said the objectivity of the ANA findings needs to be examined carefully and shouldn't be allowed to tarnish the industry and its companies.
"GroupM does not seek, nor accept rebates or hidden revenues in any form from media partners in the U.S. Nor do we accept service fees from vendors that are not disclosed to clients," it said. "GroupM is straightforward with clients concerning our proprietary media products and the value they provide; clients always exercise an informed opt-in to participate."
Omnicom said the findings don't accurately portray how its agencies work on behalf of its clients. Its outside legal counsel has asked for specifics relating to Omnicom agencies but were given none, it said in a statement.
"All of our U.S. media agency clients receive all value negotiated on their behalf in the form it is received," Omnicom said in the statement. "We also offer proprietary opt-in services that provide certain benefits to clients. These are openly disclosed, discussed and agreed upon by clients who understand the value and choose to participate. These services remain separate and apart from our agency media buying teams."
'Landmark Project'
Only once in recent years has a major ad agency been penalized in the U.S. over the issue of rebates. In 2008, the SEC reached a $12 million settlement with Interpublic based on violations of internal controls and books and records provisions of securities laws. One set of violations in that case related to "agency volume bonifications," described as vendor discounts and credits that Interpublic's McCann Erickson unit collected in violation of client contracts.
Interpublic Group said doesn't accept rebates in the U.S., nor does it believe rebates should be part of U.S. market practices. "IPG has been a leader in terms of media transparency since 2005 when we proactively confronted the types of non-transparent practices raised in today's ANA report," it said in a statement. "We eliminated these practices from our organization, issued public disclosures and strengthened our governance controls."
In recent years, most large agencies have made disclosures to clients and investors on the issue. In their filings with the SEC and other regulators, several of the agency holding companies say that occasional rebates are either retained or passed on to clients based on the language of client contracts as well as local law.
"The ANA have done a great job to invest the time and money to fund this landmark project. The report has provided clarity where previously suspicion and speculation had created a highly troubled relationship between major advertisers and their media agencies," said Tom Denford, chief strategy officer at London-based media auditor ID Comms. "We are very concerned at some of the practices that have been uncovered and it would be good to know whether these problems are focused on particular holding companies."
Before it's here, it's on the Bloomberg Terminal.
LEARN MORE