More Spark From the Sun Spurs Floating Solar Plants Across Japan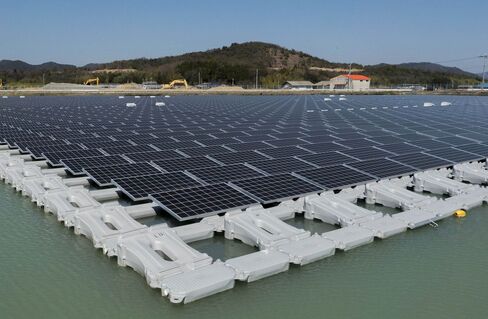 Cooler photovoltaics found to produce more electricity

China built the biggest project 300 miles from Shanghai
Developers first placed solar panels on water years ago to address land-based space constraints. Now, they're finding floating plants may be more efficient.
In a year-long study in Hyogo prefecture north of Osaka, solar panels installed on a reservoir generated 14 percent more power than those set up on the rooftop of an office building, according to the local authorities who conducted the review.
"Water keeps panels cool," said Hajime Mori, the head of operations in Japan for Ciel et Terre International SAS, a French company involved in many floating-solar projects around the world. That cooling effect allows the units to work more efficiently than modules on traditional mounts, which tend to heat up in the sun.
For a map showing the countries working on floating solar, click here.
The findings promise to open new areas for expansion for an industry that has spread panels across the countryside from Japan to Germany and California, sometimes earning the ire of residents in the process. As more plants are built, land availability threatens to become a bigger concern. Putting solar panels on lakes and reservoirs already is catching on, with projects underway in more than a dozen countries. Signs of greater efficiency is likely to give the practice another spur.
Japan has evolved into a key market for Ciel et Terre. After its first installation in 2011 for a 15-kilowatt project in France, the company supplied floats for a 1.2-megawatt station in Japan's Okegawa city, Saitama prefecture, in 2013, followed by 22 other projects in the Asian nation. Ciel et Terre has also worked on a 6.3-megawatt project by Thames Water Utilities Ltd. at a reservoir near London's Heathrow Airport. It's eyeing markets in the U.S., Brazil and China.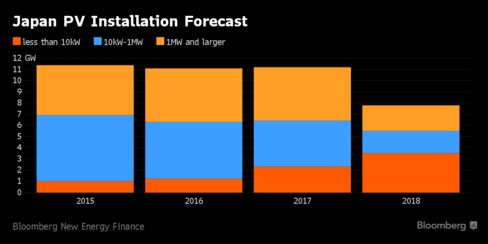 In China, the developer Xinyi Solar Holdings Ltd. has completed a 20-megawatt solar farm in Huainan City about 300 miles northwest of Shanghai the Anhui Province. That project, which Xinyi calls the world's largest floating PV plant, is located on a body of water created from subsided land over a coal mine.
At least 15 floating solar projects have come online in Hyogo since the prefecture completed its study in March 2015, Kenichi Tamura, an official in charge of the research in the Kitaharima region, said in an interview. Hyogo has 38,000 reservoirs, accounting for about 20 percent of all such bodies of water in Japan.
"Our hope was that installations would expand if the prefecture took a lead and presented favorable results," Tamura said.
Japan Leading
In Japan, the world leader in water-based solar projects, a 13.7-megawatt station is under construction in Ichihara City in Chiba prefecture near Tokyo by a venture between Kyocera Corp. and Century Tokyo Leasing Corp. It's the fourth floating plant in Japan for the venture.
At the bottom of the reservoir in Ichihara, divers have already installed nearly 470 anchors that will be connected to Ciel et Terre's floating structures, according to Harutaka Noda, division manager for Kyocera Communication Systems Co., the unit of Kyocera in charge of construction.
Photovoltaic panels are being mounted to floats connected to smaller structures crisscrossing the water surface to form passages for maintenance workers on the 60-hectare reservoir.
Maintenance Costs
Water-borne installation is not without challenges. Experience has shown developers that placing panels closer to shore cuts down on maintenance costs. Consistent water levels also mean less pressure on the anchors. Costs are also lower when panels can be placed over shallower water.
So far, Ciel et Terre has supplied equipment for about 44 megawatts of floating solar projects globally including 33 megawatts in Japan, and another 65 megawatts are under construction or planning.
Besides a boost to the return on investment due to lower leasing prices and cheaper installation costs, solar panels on water also slow algae growth and reduce water evaporation, Ciel et Terre says on its website.
New Markets
The 1.2-megawatt project in Japan can yield about 30 percent more power compared with panels on the ground, according to Kenji Araki, a spokesman for West Holdings Corp., whose unit was in charge of engineering, construction and procurement of the project.
"We wanted to continue with more floating projects after having learned Okegawa has better generation efficiency," Araki said.
Before it's here, it's on the Bloomberg Terminal.
LEARN MORE