Goldman Stays a Bear on Aluminum as Output Ramps Up in China
Chinese restarts are still on track as margins remain strong

Goldman forecasts prices will fall to $1,450 in three months
Aluminum prices will probably extend losses as production in China is set to increase after a rally lifted smelters' profits, according to Goldman Sachs Group Inc.
With most producers in the world's largest supplier posting solid margins, output growth will accelerate to 4 percent year-on-year in the second half after contracting 1.7 percent in the first four months, Goldman said in a report Monday. As capacity fires up, the bank sees prices dropping to $1,450 a metric ton in three months, $1,400 in six months and to $1,350 in a year, reiterating previous forecasts.
Aluminum climbed to a nine-month high on the London Metal Exchange in April as a credit boom and government stimulus in China boosted demand. Prices have since receded on concerns that producers will restart smelters just as demand in the country moderates. While recent restarts are relatively small, the process is still on track as margins remain strong, Goldman said.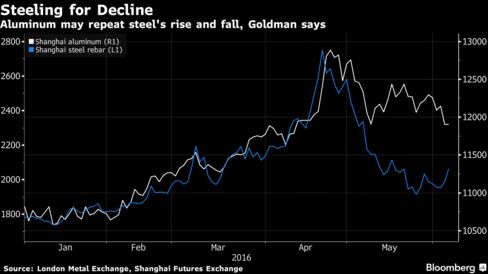 "We believe that persistent, solid margins will drive Chinese producers to restart," Goldman analysts including Yubin Fu wrote. "Should China's shutdown aluminium capacities resume production, we expect the bearish supply side dynamics will cause aluminium pricing to respond quickly."
Restart Costs
Aluminum for delivery in three months advanced as much as 12 percent through April after slumping 19 percent last year on the LME, the most since 2008. The metal is up 2.8 percent this year at $1,548.50 a ton by 3:28 p.m. in Hong Kong. Prices will face pressure in the second half on capacity additions and as idled plants return, CRU Group also said in May.
The slow pace of output ramp-ups in China was because aluminum producers face one of the highest restart costs among heavy industries, including steel, according to Goldman. Smelters take as long as six months of operation to repay restart costs, which explains why a return of shut-down capacity is slower in aluminum than steel, the bank said.
"Steel's out-performance at the beginning of this year and price decline afterwards are likely to repeat in aluminium," Goldman said. "Indeed, domestic production has been catching up already."
Before it's here, it's on the Bloomberg Terminal.
LEARN MORE