Indonesian ratios commensurate with investment grade: Aberdeen

Nikko Asset says it 'remains positive' on the country's bonds
Investors have kept faith in Asia's best-performing sovereign bond market after S&P Global Ratings left Indonesia at junk status. One fund manager described the decision as disappointing and another as inexplicable.
S&P stands alone among the three major debt assessors to keep the nation below investment grade after affirming its BB+ rating and positive outlook on June 1. An upgrade could occur over the next 12 months if Indonesia cuts deficits and implements fuel subsidy changes fully, S&P analysts Kyran Curry and YeeFarn Phua said in a statement.
"I simply cannot rationalize this failure to upgrade, as they have been well behind the curve to begin with," said Edwin Gutierrez, the London-based head of emerging-market sovereign debt at Aberdeen Asset Management Plc, which oversees $421 billion globally. "I'm not sure what kind of grudge they hold against Indonesia, but its debt ratios have been commensurate with an investment-grade country for a long time."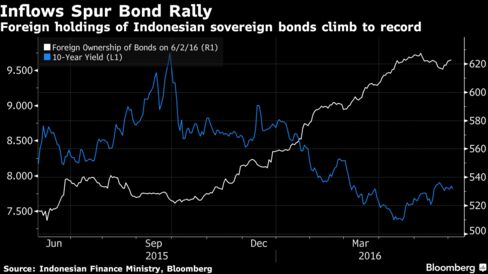 Indonesia's ratio of debt to gross domestic product is the lowest in Asia after China. Rupiah-denominated sovereign debt has lured $4.7 billion of inflows in 2016 as a pickup in government spending bolsters sentiment toward Southeast Asia's biggest economy. Three interest-rate cuts this year are helping boost growth from a six-year low, and President Joko Widodo plans to increase revenue by offering a tax amnesty for bringing back money stashed abroad.
'Bit Disappointing'
"S&P's decision was a little bit disappointing," said Manu George, a Singapore-based Asian fixed-income investment director at Schroder Investment Management Ltd., which oversees about $470 billion globally. "Those who are currently invested in Indonesian bonds are not rating sensitive and hold them for reasons of carry and relative attractiveness."
Finance Minister Bambang Brodjonegoro on Thursday criticized S&P's decision, saying it was "not appropriate," and lacked a thorough analysis. Fitch Ratings and Moody's Investors Service awarded the nation investment grade status more than four years ago.
S&P has kept Indonesia's rating unchanged since 2011. While Widodo's administration has reduced energy subsidies and cut red tape, credit quality of Indonesian companies has worsened since end-2014 amid a drop in commodity prices, S&P said its statement. Bad loans at banks have climbed form a record low in 2013, and the government's fiscal deficit is expected to increase, it said.
S&P Defends
"We assign sovereign ratings based on the application of our sovereign ratings criteria and peer comparison analysis," Curry said by e-mail Friday. "All our decisions are grounded on rigorous fundamental analysis."
S&P "hasn't totally shut out the possibility of an upgrade," said Arthur Lau, the co-head of emerging-market fixed income at Pinebridge Investments in Hong Kong, which manages $83 billion of globally. "It will continue to pressure the government to continue to reform, which is a good thing."
Indonesian bonds have gained more than 10 percent this year, Asia's best performance, according to indexes compiled by Bloomberg. Foreign ownership of rupiah-denominated government debt reached an unprecedented 627 trillion rupiah ($46 billion) last month. The nation's currency has strengthened 2.3 percent against the dollar in 2016, and the Jakarta Composite Index of shares is up 6.3 percent.
Bond Rally
The yield on Indonesia's 10-year notes has dropped 92 basis points this year to 7.83 percent, compared with a 23-basis point decline to 3.94 percent for similar-maturity Malaysian securities. After adjusting for inflation, the Indonesian securities offer the highest yield in Southeast Asia.
Economists forecast Indonesia's economy will expand 5.1 percent this year, rebounding from the slowest growth since 2009. Despite S&P's disappointing assessment, the country is on track to a very positive future, said Alvin Pattisahusiwa, chief investment officer at PT Manulife Aset Manajemen Indonesia, which manages more than $3 billion in assets.
"We remain positive on Indonesia bonds and rank Indonesia highly among other Southeast Asian countries," said Edward Ng, a Singapore-based fixed-income portfolio manager at Nikko Asset Management Co., which oversaw 18.5 trillion yen ($170 billion) at the end of 2015. "Bank Indonesia's accommodative monetary stance should continue to support the bond market."
Before it's here, it's on the Bloomberg Terminal.
LEARN MORE