'Off-balance-sheet financing increases uncertainties:' S&P

Regions 'face high levels of contingent liabilities:' Moody's
The two rating companies that cut China's debt outlook in March say efforts to bring transparency to regional finances haven't eradicated risky fundraising methods.
Direct sales of local government bonds have surged to a record 2 trillion yuan ($304 billion) since March 31, up from 906 billion yuan in the first quarter, fueled by a program to swap expensive debt for cheaper municipal securities. Moody's Investors Service and S&P Global Ratings say that while municipal notes are a more transparent way of raising money than the previous practice of using private financing vehicles, the concern is that authorities are still resorting to off-balance-sheet funding methods.
The issue was flagged last week, with the Ministry of Finance saying local governments should ensure subsidies given to public-private partnership projects don't lead to fiscal risks down the road. Seeking to counter the slowest growth in a quarter century, the government rolled out around 830 billion yuan of such programs in the last two years, and planned 1 trillion yuan of so-called special financial bonds to fund infrastructure projects.
"Our negative outlook on the Chinese sovereign ratings reflect both slow economic rebalancing and growing financial risks," said Kim Eng Tan, Singapore-based senior director of sovereign ratings at S&P Global Ratings. Non-government debt is still growing relatively quickly and "off-balance-sheet financing increases uncertainties in the financial system that could worsen the impact of any potential economic or financial shock on China," he said.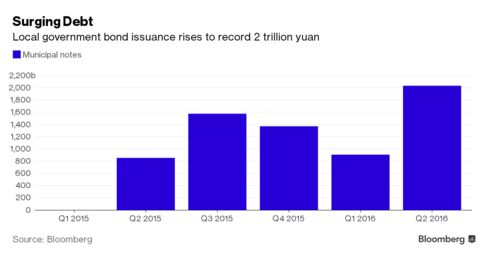 Borrowing by China's regional authorities began to surge in 2008 during the global financial crisis, when the government urged provinces to boost infrastructure spending. Regional authorities were at the time banned from selling bonds directly and so obtained funding via local-government financing vehicles that were set up for specific projects.
Regulators started to allow the exchange of that high-cost debt into municipal notes last year. About 3.2 trillion yuan in bonds were issued for refinancing old debt last year with another 5 trillion yuan to 6 trillion yuan to be issued this year as well as in 2017. The nation's top legislature separately almost doubled the quota of new issuance to 1.18 trillion yuan for this year, from 600 billion yuan in 2015.
For more details on the Chinese government's view on its finances, click here.
Funds raised from public-private partnership projects and special financial bonds could turn into liabilities for local governments because some of the equity funding from the private sector could be borrowed from regional authorities in a side agreement, said Nicholas Zhu, a Beijing-based senior analyst at Moody's. The projects may not generate sufficient profits for repayment, he said.
"In the short-term, the debt swap program is likely to improve local governments' books because it lowers their funding costs and pushes out their debt maturities," Zhu said. "But in the long run, the local governments face high levels of contingent liabilities, which could add pressure to their finances."
S&P lowered the outlook for China's rating to negative from stable in March, saying that the economic and financial risks to the government's creditworthiness were gradually increasing. The funding gaps widened for all Chinese provinces last year, with the aggregate shortfall estimated at 1.3 trillion yuan, according to an S&P report in April.
Moody's made a similar revision earlier that month, citing weakening of fiscal metrics and rising contingent liabilities. China doesn't "care that much," Finance Minister Lou Jiwei said of the Moody's decision, while the nation's state-asset regulator said last week that rating companies should be objective in evaluating the economy and state-owned firms.
'Under Control'
China's government still has room to borrow more to finance the investment needed to shore up economic growth, the Ministry of Finance said on May 26. Overall risks associated with government debt, which amounted to 26.66 trillion yuan at the end of last year, are under control, the ministry said. The government can add leverage gradually because its debt ratio is still below international warning levels, it said.
The ratio of government borrowings to gross domestic product is 39.4 percent, according to the finance ministry. S&P estimated the provincial governments' debt burden stood at 180 percent of their total revenue at the end of 2015. Local authorities are relying more on property-related taxes, which exceeded land sales in some regions, for fiscal income, the Economic Information Daily reported Monday, citing research by Peking University's School of Economics.
"It is our expectation that the government will continue to maintain economic growth close to its target level through increased public investment in the next few years," said S&P's Tan. "Accompanying this is an increase in leverage, which brings with it higher financial risk."
— With assistance by Lianting Tu, and Helen Sun
Before it's here, it's on the Bloomberg Terminal.
LEARN MORE