Fed's Mester Sees Gradual Rate Boosts Despite Weak Jobs Data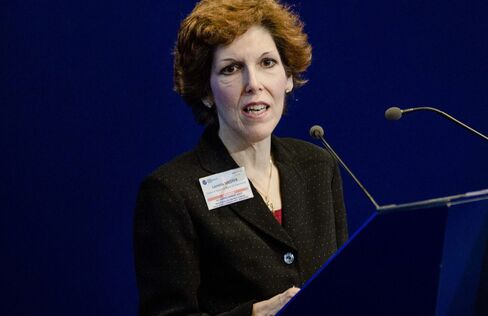 'Upward pace' is appropriate with economy expanding, she says

May's U.S. payrolls report erased argument for a boost in June
The Federal Reserve should raise interest rates gradually despite weak jobs data, Cleveland Fed President Loretta Mester said, a day after the U.S. payrolls report erased the argument for a move in June.
U.S. economic growth is picking up, inflation is moving toward target and the country is at full employment, Mester told reporters in Stockholm on Saturday.
"I still believe that in order to achieve our monetary policy goals a gradual upward pace of the funds rate is appropriate," said Mester, a 2016 voter on the policy-making Federal Open Market Committee who made the case in April in favor of gradual rate rises this year. "When the rate hikes will occur and the slope of that gradual path is data dependent."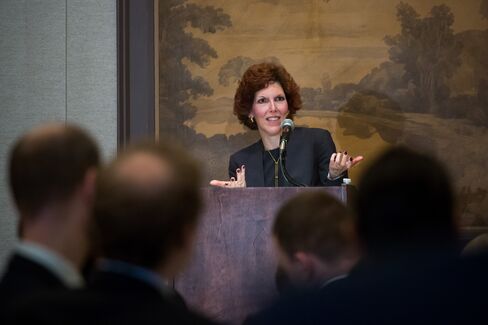 The U.S. economy created fewer jobs in May than in any single month in almost six years, according to figures published Friday. That's fueled speculation the Fed won't be as eager to tighten monetary policy in 2016 after raising rates late last year for the first time since late 2008 on signs the economy is picking up.
While the jobs data was a disappointment that shouldn't be downplayed, "you can't read too much into one number" as seasonal factors loomed large and the Verizon Communications Inc. strike affected the number negatively, Mester said. "The weak employment number has not changed fundamentally my economic outlook" as "the economy is definitely moving in the right direction," she said.
Fed Governor Lael Brainard told an audience in Washington on Friday that the report is "sobering and suggests that the labor market has slowed."
"Prudent risk-management implies we should wait for additional data to provide confidence that domestic activity has rebounded," said Brainard, who has previously argued for patience on raising rates.
Recent comments from other officials prior to the report, including Chair Janet Yellen on May 27, had signaled they were in favor of a rate increase in coming months. Yellen delivers remarks again on Monday, making her the last scheduled Fed official to speak publicly before the quiet period they typically observe the week before a Federal Open Market Committee meeting.
"I thought she would be kind of sealing the case for June," said Stephen Stanley, chief economist at Amherst Pierpont Securities LLC in New York, said Friday. "Maybe it's time for her speech writers to plan a long weekend."
The committee is scheduled to report the results of that session on June 15.
Odds of a June hike implied by futures trading, which had risen as high as 34 percent in late May as Fed officials hinted at their eagerness to raise rates, tumbled to just 4 percent following the employment report. The chances are based on prices in federal funds futures contracts.
Before it's here, it's on the Bloomberg Terminal.
LEARN MORE