Year's Best Indian Stock Climbs as U.K. Aid Seen for Tata Steel
Sanctum Wealth advises buying 360 rupee calls for 150% gain

Credit Suisse maintains outperform on asset sale optimism
Tata Steel Ltd. shares jumped to a one-month high on reports that the Indian steelmaker is negotiating for a British government loan of hundreds of millions of pounds for its U.K. operations.
The year's best-performing stock on India's benchmark index has rallied more than 60 percent from a February low of 211.15 rupees. Three-month calls with a strike price 5 percent above the company's shares rose 2.7 percent, while its shares climbed as much as 2.3 percent to 348.3 rupees, set for the highest level since May 3.
Tata Steel, which has been shortlisting buyers for Port Talbot, is close to agreeing to keep the operations after the British government offered it a loan to stay in the country, the Financial Times reported Thursday. Tata has sought further government incentives and the steelmaker is said to be discussing a government loan on commercial terms, the report said. Two calls made to Tata Steel spokesmen weren't answered.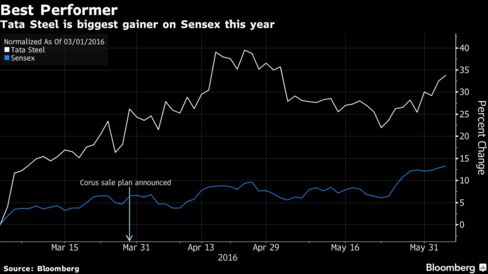 "The smart money is staying in Tata Steel as it will benefit from a global recovery in steel demand," Ashish Chaturmohta, head of derivatives and technicals at Sanctum Wealth Management Ltd., said in a phone interview. "The metals space is seeing strong momentum as a global risk-on trade is emerging in commodities."
The stock may rally another 7 percent based on options activity, Chaturmohta said. He recommends buying call options with a strike of 360 rupees, for an upside potential of 150 percent. Calls with a 350-rupee strike have the highest open interest, data compiled by Bloomberg show.
Credit Suisse Rating
Credit Suisse Group AG maintained an outperform on the stock Friday as the ongoing U.K. asset sale is progressing well and a separate deal for the Scunthorpe plant closing earlier this week.
The U.K. government has offered hundreds of millions of pounds of financial support as an incentive to a potential buyer and the state would also consider taking a stake of as much as 25 percent. The administration said May 26 it is also considering changing the nation's steel pension plan to aid a sale of Tata's struggling assets.
The Tata Steel pension plan may have a deficit of between 700 million pounds ($1 billion) and 1.5 billion pounds, it said.
"The pension deficit is now pegged at 0.7 billion pounds, laying to rest speculation that it could be as high as 2 billion pounds," Credit Suisse said in the note.
The India VIX index, a gauge of stock-market swings, dropped by the most since March this week with the NSE Nifty 50 Index poised for a second week of gains.
Before it's here, it's on the Bloomberg Terminal.
LEARN MORE