Treasuries Surge by Most Since September as Jobs Growth Stalls
Two-year note yield plunges as traders pare bets on Fed path

Futures-implied probability of a June rate hike tumbles to 4%
Treasuries surged after a report showed U.S. employment growth stalled in May, weakening the Federal Reserve's case to raise interest rates as soon as this month.
The two-year note yield tumbled by the most since September after the Labor Department reported the U.S. created 38,000 jobs in May, the fewest in almost six years and less than the most pessimistic forecast in a Bloomberg survey of economists. The gap between yields on U.S. five- and 30-year debt, a measure of the yield curve, steepened by the most since March.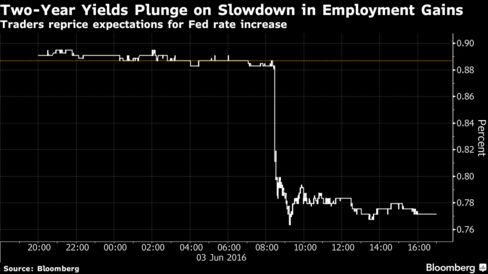 "This was quite shocking -- it's way under expectations," said Christopher Sullivan, who oversees $2.3 billion as chief investment officer at United Nations Federal Credit Union in New York. The Fed "will postpone a nearby rate hike for sure -- maybe they'll be forced to look beyond the summer."
The report sparked a global rally in government debt that sent yields in Germany and the U.K. to record-low levels as traders pared wagers on the path of U.S. interest rates. Fed Chair Janet Yellen last week said officials will raise rates "probably in the coming months" as they look for evidence of continued labor-market strength and a pickup in inflation. Fed Governor Lael Brainard on Friday said she sees "benefit to waiting" for more information, given mixed second-quarter economic data.
Plunging Yields
The two-year note yield fell 12 basis points, or 0.12 percentage point, to 0.77 percent as of 5 p.m. New York time, according to Bloomberg Bond Trader data, after touching as low as 0.76 percent. The price of the 0.875 percent note due in May 2018, rose 7/32, or $2.19 per $1,000 face amount, to 100 6/32. The yield fell 14 basis points this week, the most since the week ended April 1.
The benchmark 10-year note yield fell 10 basis points to 1.70 percent. On a weekly basis, the yield dropped 15 basis points, the most since the week ended Jan. 8.
Yields on benchmark 10-year Treasury notes are still higher than those on comparable-maturity debt of 17 other developed nations, according to data compiled by Bloomberg, helping fuel demand for U.S. securities. The total size of negative-yielding sovereign debt around the world rose to $10.4 trillion in May, according to a Thursday report from Fitch Ratings.
Traders were pricing in a 4 percent probability of a rate increase in June, down from 22 percent before the release of the jobs report, according to futures data compiled by Bloomberg. The data assign a 27 percent chance of a move by July and a 57 percent chance of an increase by year-end.
Terminal Rate
"It's enough of a shock to delay June into July for sure," Bill Gross, manager of the $1.3 billion Janus Global Unconstrained Bond Fund, said in an interview on Bloomberg Television. "Ultimately, I think Janet Yellen will continue to suggest one or two hikes over the balance of 2016, and perhaps the same for 2017."
In addition to tepid U.S. economic data, China and other emerging markets remain a source of risks, along with the possibility that U.K. voters may decide in a June 23 referendum to leave the European Union, the Fed's Brainard said in text of a speech Friday in Washington.
In their latest quarterly projections, Fed officials in March cut their forecasts for 2016 rate increases to two from four, after liftoff from near zero in December. Officials forecast the longer-run rate, also known as the terminal rate, climbing to 3.25 percent sometime beyond 2018.
Net Shorts
The bond market sees the rate remaining far lower. Trading in overnight index swaps projects the fed funds effective rate will be about 1 percent in three years, and will only reach 2 percent almost a decade later.
Hedge funds and other speculative investors were net short two-year Treasuries in the week ended May 31 by the most since 2007, according to U.S. Commodity Futures Trading Commission data. The funds' position built up in recent weeks as Fed officials' comments seemed to indicate another interest-rate increase was imminent after liftoff from near zero in December.
The gap between yields on U.S. five- and 30-year debt steepened to 128 basis points.
"The front end of the yield curve is leading the rally," said Jeffrey Rosenberg, the New York-based chief investment strategist for fixed income at BlackRock Inc, in an interview on Bloomberg Television. "Yesterday it was about the global factors pushing back into the U.S."
Before it's here, it's on the Bloomberg Terminal.
LEARN MORE