Thai Junta Leader Uses Singapore Speech to Mount Defense of Coup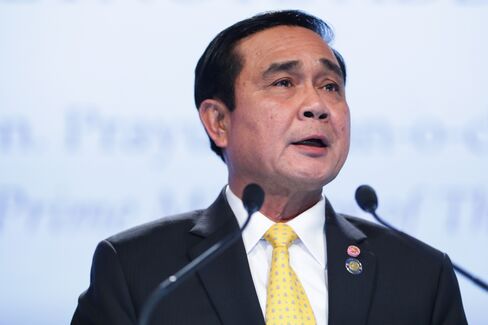 Prime Minister Prayuth says country will return to democracy

Says international law needed to resolve South China Sea spats
Thai military leader-turned Prime Minister Prayuth Chan-Ocha used a keynote address to a global defense forum on Friday to declare the 2014 overthrow of a popularly elected government as a necessary step in the transition toward a sustainable democracy.
In his speech to the Shangri-La security dialogue in Singapore, Prayuth said Thailand had been divided by conflict stemming from a political culture that produced democracy in form but not function.
"If we can bring peace and order back to society, reforms can then take place," Prayuth said. "I can assure you that Thailand will return to democracy in accordance with the road map and that Thailand upholds the democratic process."
The political climate in Thailand is heating up ahead of an August referendum on a new constitution penned by junta appointees. The draft has been panned by academics, rights groups and the nation's largest political parties, who say the charter would extend the military's hold on politics.
Prayuth has frequently defended the coup at home, but spoken of it rarely abroad. The imperative is growing for the junta to restore international confidence in Thailand, with the economy drifting in limbo even as growth in other Southeast Asian nations has remained relatively robust.
For more on the political situation in Thailand, click here
Under pressure from Western nations to remove restrictions on freedom of expression and to return to elected rule, Prayuth said Thailand was facing complex challenges.
"Thailand's national security has been affected by poverty, social disparities, the middle income trap, a fall in agricultural output as a result of the drought and falling commodity prices brought on by the global economic slump," he said. "Thailand has also been experiencing unrest in the southern border provinces, which is an internal problem. We are addressing that."
Recounting a swath of domestic problems faced before the coup, Prayuth named feuding political parties, rampant corruption and a breakdown in the rule of law as the most pressing issues.
"Because of this we had to come in and put the country on the track for political reform," Prayuth said. "There was no other way than to intervene. To this day there are politically motivated individuals who abuse social media to engage in libel and distort facts," he said. "All of our measures have been based on the rule of law."
Street Protests
Prayuth led the May 2014 intervention that toppled the elected government. The coup, the country's second in less than eight years, came amid protracted street protests by different political factions.
Once in power, he banned protests and approved an interim constitution that grants him absolute power, which he vowed to use to reform the country, end unrest and "return happiness" to ordinary Thais. The junta has pushed back the date for possible elections -- the current timeline is late 2017 at the earliest.
Prayuth has said an election can only be held once there is no dissent and a new constitution is in place. This week he reiterated he won't give up power until the country is at peace.
Weekly Show
Known for his outbursts and unscripted remarks, Prayuth frequently yells at reporters -- who he has joked about executing -- and has had to apologize, including for comments amid a high-profile murder investigation about not being able to guarantee the safety of tourists who wear bikinis.
He hosts a weekly TV show called "Returning Happiness to the People" -- which airs during prime time on all major networks -- where he can alternate between defending his government against criticism and dispensing folksy wisdom such as how to properly dispose of corn cobs.
Expressing an interest in the Trans-Pacific Partnership, the 12-nation trade deal that would bring some Association of Southeast Asian Nation states into a closer trading relationship with the U.S., Prayuth said in Singapore that a strong architecture was needed to solve regional disputes.
For a graphic on the South China Sea tensions, click here
International law must be considered with regard to territorial tensions in the South China Sea, Prayuth said, adding that countries can't think only of their own security. He urged the world's major powers to cooperate more in Asia.
Thailand has avoided getting involved in the South China Sea spats between China and other nations, and is not a claimant. Its stance on the issue dovetails with statements released by the Association of Southeast Asian Nations, of which it is a founding member.
Before it's here, it's on the Bloomberg Terminal.
LEARN MORE