JPMorgan Banker Says Devastating Firing Cost Him $3 Million
Patrice Ktorza suing for unfair dismissal in London tribunal

Ktorza fired for breaking rule introduced after currency fines
A JPMorgan Chase & Co. foreign-exchange salesman who was fired for failing to follow rules introduced in the wake of the market-rigging scandal said his suspension left him anxious and isolated and eventually cost him 2 million pounds ($3 million).
Patrice Ktorza, a former executive director, is suing the bank for unfair dismissal in a London tribunal. He was suspended in November 2014 for "partially filling" a trade, a practice the bank stopped salespeople from carrying out after a review of its practices in the wake of the foreign-exchange manipulation scandal.
"Being suspended for nearly a year over this matter was truly disastrous for me financially," Ktorza said in a witness statement made public Friday. The suspension for such a long period suggests "other forces were at play and that the outcome had either been predetermined or the bank wanted to make an example of me."
Ktorza is among a growing list of foreign-exchange traders and salespeople to sue their former employers in recent months, claiming banks were too quick to dismiss workers while attempting to impress regulators. Two former Citigroup Inc. employees, Perry Stimpson and Carly McWilliams, won their cases after a judge found their managers failed to follow proper procedures when dismissing them.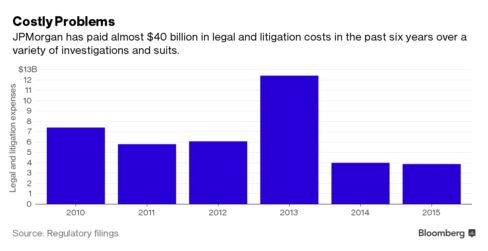 JPMorgan had recently changed rules so that only traders, not salesmen, could do "partial fill" trades. Banks "short fill" or "partial fill" an order when they are unable to fulfill the total value of the client's request at the required rate. JPMorgan salespeople were banned from short filling in an effort to prevent them from taking risks in the wake of the fines.
Ktorza made 290,000 pounds a year before his suspension in addition to receiving an annual bonus of $1 million.
Compensation for an unfair dismissal claim like Ktorza's is capped at about 80,000 pounds, less than a third of his previous salary. Winnings are uncapped if claimants can prove they were victims of discrimination, or were fired for whistle-blowing.
The money can be secondary, however, if a ruling allows a banker to remove misconduct charges from their Financial Conduct Authority record.
Ktorza said he was unaware of the rule change and said the trade in question was never completed because he was confronted by a trader. After his suspension, his pay was reduced to his basic salary, costing him unvested shares and bonuses, he said.
I "proposed to do something which, due to my failure to appreciate the meaning and importance of the new guidelines, I was no longer allowed to do," Ktorza said in his witness statement. This is not a fair basis for firing someone,"quite apart from destroying their FCA record."
During his suspension Ktorza lost 8 kilograms (18 pounds) and "consulted with a specialist in France" regarding his mental state, according to his statement.
"I was offered medication, but opted to address the problem through increased physical activity," he said. "I remained anxious and isolated."
Ktorza "provisionally secured" a job at broker JB Drax Honore, but lost the opportunity as his suspension dragged on, he said. He is now working in a position that doesn't require FCA approval at "a fraction" of his former income, according to his statement.
Before it's here, it's on the Bloomberg Terminal.
LEARN MORE