Asian Stocks Rise Before Jobs Data as Japanese Shares Advance
Payrolls data may provide clues on timing for higher rates

Japan's Topix pares weekly loss after Abe disappointment
Asian stocks headed for a second week of gains as Japanese shares climbed for the first time in three days and investors awaited a monthly U.S. government jobs report that may provide clues on when the American central bank will raise borrowing costs.
The MSCI Asia Pacific Index added 0.4 percent to 128.58 as of 4:19 p.m. in Hong Kong, heading for its first week of back-to-back gains since mid April. Australian and Philippine equities were among the biggest gainers in the region. Investors are also turning their focus on macro-economic events this month, with the U.K. vote on whether to remain in the European Union.
"Tonight we have the all-important U.S. payrolls figure," said Niv Dagan, executive director at Peak Asset Management LLC in Melbourne. "Investors are evaluating economic data to determine whether the Federal Reserve will hike interest rates as soon as its next meeting."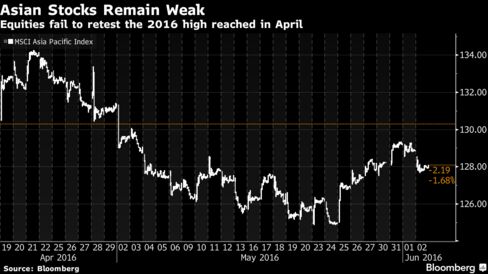 Stocks in the U.S. rose to a seven-month high on optimism the American economy is strong enough to withstand higher interest rates. Economists surveyed by Bloomberg forecast employers added 160,000 jobs in May, the same as in April, with the unemployment rate slipping to 4.9 percent.
It's been a tumultuous year for investors in Asia-Pacific equities. The regional index began the year with a 14 percent slump through a February low on concern a devaluation of the Chinese yuan would curb global growth and amid prospects for a U.S. rate increase. It then rallied almost 20 percent through this year's peak in April before retreating again. The gauge was down 4.5 percent from its 2016 high through Thursday.
For more on Goldman seeing risk of China's yuan repeating January rout, click here.
Japan's Topix index rose 0.4 percent, paring its first weekly loss in a month to 0.9 percent. The yen traded at 108.67 per dollar, climbing for a fourth straight day. Equities in Tokyo have been pressured after Prime Minister Shinzo Abe failed to provide details of a fiscal stimulus package as he announced a delay to a sales-tax increase.
Fast Retailing Co. jumped 6.9 percent after saying sales at its Japanese Uniqlo stores rose 5.9 percent in May from a year earlier, the most since January. Takata Corp. rose 1.6 percent. Bain Capital and PAG Asia Capital are evaluating bids for the scandal-ridden airbag maker, joining KKR & Co. among those interested in an offer, according to people familiar with the matter.
In Singapore, Noble Group Ltd. slumped 12 percent. The junk-rated commodities trader that lost its chief executive officer this week, approved a rights issue to raise about $500 million with support from China's sovereign wealth fund, and announced plans for the succession of founder and chairman Richard Elman. Singapore's Straits Times Index added 0.5 percent.
For more on Noble's China-backed stock issue, click here.
Australia's S&P/ASX 200 Index rose 0.8 percent, with volume down about 12 percent from its 30-day average. BHP Billiton Ltd. climbed 1.6 percent, paring this week's loss to 4.3 percent. South Korea's Kospi index was little changed. New Zealand's S&P/NZX 50 Index gained 0.3 percent.
Taiwan's Taiex Index rose 0.4 percent, completing a third weekly advance. Taiwan Semiconductor Manufacturing Co. advanced 0.9 percent to the highest level since April 14.
Hong Kong's Hang Seng Index added 0.4 percent and the Hang Seng China Enterprises Index of mainland firms listed in the city advanced 0.6 percent. The Shanghai Composite Index gained 0.5 percent, capping its its first weekly increase in almost two months. Speculation MSCI Inc. will include yuan-denominated shares in its global indexes was tempered by concern over the slowing economy and falling yuan.
India's the S&P BSE Sensex was poised for a second weekly increase amid optimism the nation's economic growth will accelerate. Citigroup Inc. on Friday raised its year-end target for the index by 7 percent, citing improving economic indicators.
Futures on the S&P 500 slid 0.1 percent. The underlying gauge rose 0.3 percent, to a seven-month high, amid signs of a steady increase in jobs.
Before it's here, it's on the Bloomberg Terminal.
LEARN MORE