An Amazon Wannabe Rises on the Steppes
After beating Google, Russia's Yandex targets e-commerce.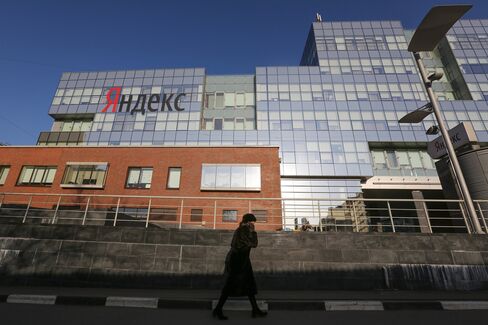 In a Google-dominated world, Yandex became Russia's largest internet search engine by offering a better way to interpret the peculiarities of Slavic grammar. And two years before Uber made it to the country, Yandex started a ride-hailing service that's become the market leader in Moscow. Now the company is targeting a business ruled in many places by another American behemoth, Amazon.com, with a renewed bet on e-commerce as expansion in its search business begins to slow. "Consumers like us, and stores want to list on our platform," says Pavel Aleshin, the executive overseeing the company's online shopping effort.
Yandex.Market, a separate site from the company's search page, includes more than 20,000 merchants selling everything from dog food to roller skates. Its minimalist layout draws about 22 million visitors a month, according to researcher TNS. To attract business, Yandex has started arranging nationwide delivery for smaller e-tailers and helps them set up virtual call centers to deal with customers. At the same time, it's changing the way it charges merchants. Until last year, Yandex.Market made most of its money from small click fees—as little as 3 rubles (4¢)—when search results directed customers to a site. Now it takes a commission of 1 percent on orders made via the marketplace. That's far below the 6 percent to 20 percent Amazon charges, though Yandex says the price is aimed at attracting more merchants and will likely rise.
E-commerce is growing fast in Russia, despite a recession. Yandex.Market's revenue jumped 55 percent in the first quarter, the first period for which its parent reported separate results for the unit, and the business accounted for 6.3 percent of total sales. The company is Russia's biggest e-tailer, with about 10 percent of the country's e-commerce market, which last year climbed 16 percent, to 650 billion rubles ($10 billion), researcher Data Insight estimates. A host of others split the rest. Avito, controlled by South African internet company Naspers, is expanding beyond its focus on consumer classified ads with more goods from businesses. AliExpress, the consumer arm of China's Alibaba Group, offers mostly imported products. And locals Ozon.ru and Ulmart run web stores but don't work much with smaller merchants. Amazon, which operates in 13 countries beyond the U.S., isn't in Russia and declined to comment on its plans for the country.
To lure consumers, Yandex is adding categories such as toys, cosmetics, and home improvement goods, which haven't been widely sold online in Russia. It lets buyers order directly from phones and tablets, since many Russian web stores aren't configured to work well with the smaller screens on mobile devices. And it's stepping up advertising in far-flung regions of the country and offering a service that lets consumers compare costs—and various shipping methods—nationwide, meaning people in smaller cities can get the lower prices usually available in Moscow.
While most retailers can still choose to pay click fees rather than commissions, Yandex is requiring watch sellers to adopt the new fee model if they want to list on the site. That's "mutually beneficial, as shops now pay for concrete transactions instead of web clicks that won't necessarily result in a purchase," Aleshin says. Vyacheslav Zhigarev, deputy head of Timecross. ru, which sells Casio watches, isn't so sure. He says the system has created more work for his staffers, who must separately track sales made via Yandex because the companies' software wasn't properly integrated. And it costs more, he says—though he acknowledges it's tough to avoid Yandex. "We need Yandex.Market to attract customers and can't do without it," Zhigarev says. "But their commission model has created some complications and increased what we pay."
The bottom line: Yandex, looking to boost sales and attract more customers, is changing how it works with its web vendors.
Before it's here, it's on the Bloomberg Terminal.
LEARN MORE