Currency option gauges suggest the lower band of euro-dollar's recent elevated range at 1.1058-1.1616 may remain intact after the European Central Bank rate decision and President Mario Draghi's press conference later today, Bloomberg strategist Vassilis Karamanis writes.
Overnight implied volatility of about 15 percent yesterday suggested a breakeven of 71 dollar pips -- an indication of how much the currency pair could move in either direction.
With the euro averaging at around $1.1167 in the past two days, this signals that technical support at the March 16 low of $1.1058 may hold on a daily basis, should the Governing Council proceed as expected. Additional support levels for the common currency lie at 1.1070, the 50 percent retreat of its advance since Dec. 3, and 1.1090, the 233-day moving average.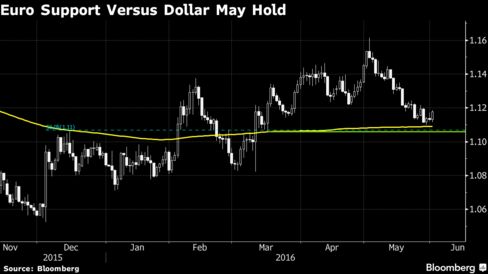 The currency pair's nine-day Relative Strength Index remained yesterday near levels that signal it's oversold, though signs of a reversal are now emerging.
While euro-dollar overnight implied volatility has risen recently, it remains below highs of at least 22 percent seen before ECB rate decisions in March and December, when officials unveiled stimulus measures.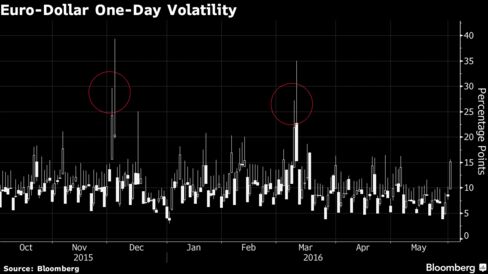 Meanwhile, one-week volatility rose yesterday for a fifth-straight day, hitting a six-week high of 10.41 percent, as investors brace for key risk events in the U.S. in the coming week. U.S. employment data is due on Friday and Federal Reserve Chair Janet Yellen will speak in Philadelphia on Monday.
Note: Vassilis Karamanis is an FX and rates strategist who writes for Bloomberg. The observations he makes are his own and are not intended as investment advice.
Before it's here, it's on the Bloomberg Terminal.
LEARN MORE