Unmoved By ECB and OPEC, Currency Traders Look to Jobs
ECB and OPEC meetings in Vienna had limited currencies impact

Market turns to employment to shed light on greenback path
Currency investors let down by lack of surprises from OPEC and the European Central Bank are turning their attention to Friday's U.S. jobs report.
The two groups' meetings, both in Vienna, failed to inject volatility in the $5.3 trillion-a-day market, with all 16 major currencies moving less than 0.5 percent against the dollar, apart from the yen, won and Mexican peso. OPEC will stick to its policy of unfettered production after members failed to agree on an output ceiling, while European central bankers kept interest rates and the pace of bond-buying unchanged.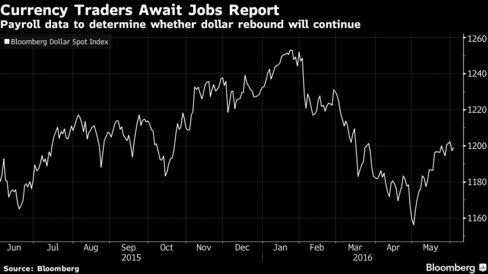 The jobs report Friday will help to determine whether the Federal Open Market Committee sees a strong-enough economy to raise interest rates on June 15. The dollar rebounded 3.7 percent last month, paring losses this year, after officials including Chair Janet Yellen said higher rates in the coming months look appropriate.
"The ECB and OPEC both met in Vienna today, but neither is in the mood for radical action," Kit Juckes, a London-based strategist at Societe Generale SA, said in an email. "The threat to the market's confidence that the FOMC will follow through on its more hawkish tone comes in the form of the non-farm payroll data tomorrow."
Bloomberg's Dollar Spot Index, which tracks the currency against 10 major peers, was little changed as of 5 p.m. New York time. The U.S. currency climbed 0.3 percent to $1.1151 per euro and fell 0.6 percent to 108.87 yen.
Economists in a Bloomberg survey forecast that the Labor Department's May nonfarm payrolls report Friday will show employers added 160,000 jobs for the second straight month, representing a slowdown from last year's average monthly growth of 229,000 jobs. The unemployment rate is expected to fall to 4.9 percent from 5 percent.
The greenback rose against the currencies of commodity producers after OPEC members failed to reach an agreement on oil production. Although OPEC regularly ignores its own output targets and there was no suggestion anyone would cut production, a token gesture could have showed renewed unity and boosted prices. Crude has recovered to about $48 a barrel, still way below the $100 level three years ago, threatening economies such as Norway and Canada that rely on oil exports for growth.
(
Corrects to show South Korean won climbed more than 0.5 percent in second paragraph.
)
Before it's here, it's on the Bloomberg Terminal.
LEARN MORE