Employers in U.S. Moderating the Pace of Hiring: Jobs Preview
May payrolls projected to match April's 160,000 increase

Unemployment rate may fall to 4.9 percent, matching 2008 low
The May payroll reading will be difficult to decipher after the U.S. jobs recovery suffered a bit of a slowdown in April.
A strike involving workers at Verizon Communications Inc. workers probably depressed payrolls last month, the employment report is projected to show on Friday. Economists and policy makers alike will nonetheless try to dissect the data for signs that underlying labor-market momentum remains in place.
Here's what they'll be looking for when the Labor Department report is released at 8:30 a.m.:
Verizon Effect
Payrolls probably climbed by 160,000 in May for a second month, according to the median estimate of a Bloomberg survey of economists. That represents a marked slowdown from last year's average monthly growth of 229,000 jobs.
The May total, however, will probably reflect a Verizon work stoppage that Labor Department data showed involved some 35,100 workers, the most in four years. Those workers were idle for the entire payroll survey pay period, which includes the 12th of the month. Landline workers at Verizon, the U.S.'s largest wireless carrier, began protesting in April as the company sought to increase workers' contributions for health benefits and greater flexibility in temporary job relocations.
"Overall the U.S. economy has regained some momentum at the beginning of the second quarter and that should also be visible in the labor-market data -- the reason we don't see it in the payroll data is the Verizon strike" said Harm Bandholz, chief U.S. economist at UniCredit Bank AG in New York. "Net of the Verizon strike, payroll gains would have accelerated in May." Bandholz forecasts a 160,000 increase in hiring.
If Verizon hired temporary workers to reduce the impact of striking employees, that may act to cushion the hit to payrolls somewhat.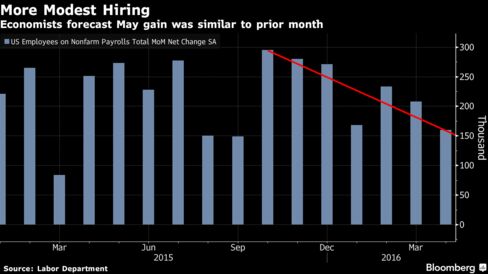 Another factor that may have held back last month's figures is "supply problems stemming from the recent Japanese earthquake," which "will hit auto-sector employment too," Paul Ashworth, chief U.S. economist at Capital Economics NA Ltd., wrote in a May 26 note to clients. Ashworth's 120,000 forecast for payrolls is among the lowest in the Bloomberg survey.
Jobless Rate
The unemployment rate is expected to decline to 4.9 percent from 5 percent, according to the Bloomberg survey median. That would match the lowest level since February 2008 and is within the area Federal Reserve officials consider consistent with full employment.
In addition to the number of people who find work, progress on the jobless rate will hinge on how many workers decide to enter or return to the labor force. While that figure had been steadily climbing, a sign that an improving economy is luring more people back to the workforce, it took a step back in April.
The labor force participation rate declined to 62.8 percent that month, down from a two-year high of 63 percent in March.
"The key thing going forward is going to be the labor force participation rate," said Ryan Sweet, a senior economist at Moody's Analytics Inc. in West Chester, Pennsylvania. "If we don't get an increase in that just a little bit here and there, we're going to bump up into labor-supply constraints much more quickly than some economists are anticipating. If there's a lack of labor supply, job growth will weaken more quickly."
Hours and Earnings

The impact of the Verizon strike may also extend to figures on average hourly earnings and average weekly hours. Within the affected sectors -- electrical contractors and wired telecommunications carriers -- estimates would be affected "only if the hours or earnings of the people on strike or layoff differ considerably from the industry's average," according to the Labor Department.
Average hourly earnings are expected to have climbed 0.2 percent in May from the month before and 2.5 percent from a year earlier.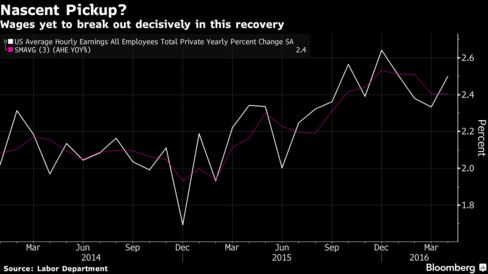 Economists remain optimistic that wage growth, the missing link of the recovery so far, will pick up as the labor market continues to tighten.
As the economy approaches full employment, "you tend to get a little bit of wage pressure with a slowdown in hours worked," said James Sweeney, chief economist at Credit Suisse Securities USA LLC in New York.
Even with the distortions expected in the May report, Fed policy makers will likely use the data to color their view of the economy as they gauge when it will be appropriate to again raise the benchmark interest rate. They next meet on June 14-15.
Before it's here, it's on the Bloomberg Terminal.
LEARN MORE