Brazil's Industrial Production Unexpectedly Rises in April
Capital goods output records fourth straight increase

Data suggests peak of Brazil's recession is behind: Barclays
Brazil's industrial output unexpectedly rose in April, adding to indications that Latin America's largest economy is close to hitting bottom.
Production rose 0.1 percent in April after a 1.4 percent jump in March, the national statistics agency said Thursday in Rio de Janeiro. That surprised all but one of the 37 economists surveyed by Bloomberg, whose median forecast was for a 0.9 percent drop. It was also the first back-to-back increase for the industrial sector since mid-2014.
The industry data followed a smaller-than-expected contraction for the Brazilian economy in the first quarter. Business and consumer confidence levels have started to recover from all-time lows since President Dilma Rousseff was suspended from office pending her impeachment trial. The new administration of Michel Temer, who assumed the presidency on an interim basis last month, is working on measures to revert the economic downturn.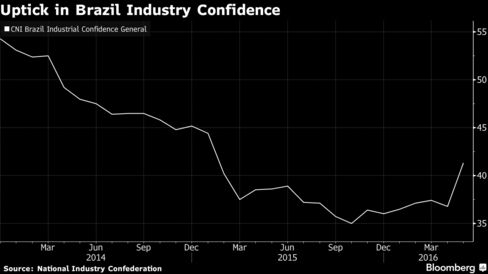 "We can see some positive information coming from the industry data today, particularly the rise in capital goods production," Luciano Rostagno, chief strategist with Banco Mizuho do Brasil, said by phone from Sao Paulo. "The industry data is beginning to show the sector may find a bottom in the coming months."
Output of capital goods in April, a barometer of investment, rose 1.2 percent after a revised 3 percent increase the previous month, the statistics institute said. Capital goods have increased for four consecutive months, for the first time since mid-2009, according to Rostagno. Intermediate goods also rose 0.5 percent in April.
Industrial confidence as measured by the Getulio Vargas Foundation jumped in April and May. Consumer confidence also had an uptick in the same month, though it remains close to the historical low as unemployment in Latin America's largest economy continues to rise. Industrial output of consumer goods shrank in May, including a 4.4 percent decline in durable goods.
"I do believe that the confidence recovery on the industry side, construction side and the business side will be much more sustainable than the consumer side," Bruno Rovai, Brazil analyst at Barclays Plc, said by phone from New York. "The data we are receiving -- yesterday's GDP, confidence indicators on Tuesday and today's industrial production -- corroborates that the peak of the recession is behind."
The economy shrank 0.3 percent in the first quarter, less than all but two economists expected and the best quarterly result since end-2014. Following the activity data, Thursday's industrial output report adds to signs economic conditions are starting to stabilize, Neil Shearing, chief emerging markets economist at Capital Economics Ltd, wrote in a note.
Before it's here, it's on the Bloomberg Terminal.
LEARN MORE