Yuan's Shrinking Share Erodes PBOC's Efforts to Push Global Use
Chinese currency savings in Hong Kong fall to three-year low

China will keep depreciation expectations in check: Mizuho
China's efforts to increase the yuan's global usage are taking a hit, with renewed depreciation pressures eroding the currency's biggest offshore pool and reducing its share of international payments.
Yuan deposits in Hong Kong, the largest center for the currency outside mainland China, shrank for a third month in April to the least since 2013, according to official data released Tuesday. This came just as the Society for Worldwide Interbank Financial Telecommunications said that the yuan's share of global transactions fell to 1.82 percent in April, from a high of 2.79 percent last year.
The declining usage spurred by a resurgent dollar is threatening to spoil central bank Governor Zhou Xiaochuan's efforts to promote the yuan as the currency prepares to enter the International Monetary Fund's basket of reserves in October. The People's Bank of China has appointed yuan-clearing lenders in countries including South Africa and Argentina and opened the domestic bond and currency markets to overseas central banks. In addition, the nation sold 3 billion yuan ($458 million) of sovereign bonds in London last week.
"The fall in the usage of the yuan highlights headwinds for internationalization, and I think it is due to intensifying depreciation expectation and rising volatility in the currency," said Ken Cheung, a foreign-exchange strategist at Mizuho Bank Ltd. in Hong Kong. "The authorities will keep yuan depreciation expectation in check, as that's the key to promote internationalization."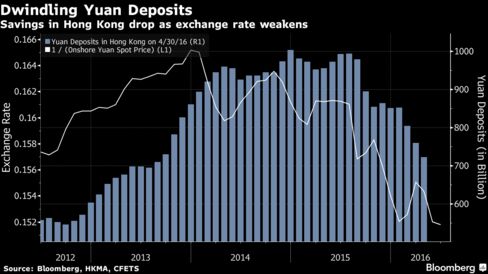 While the yuan's 1.5 percent retreat in May has investors and analysts watching for any repeat of the turmoil ignited by a surprise devaluation in August, economists say the PBOC will try and stave off any panic this time round. An increase in outflows won't spark the same alarm because the authorities will manage the depreciation, Song Yu, chief China economist for Goldman Sachs/Gao Hua Securities Co., said in an interview last week. The exchange rate will weaken 1.2 percent to end the year at 6.66, according to the median forecast in a Bloomberg survey.
The nation will seek to increase the yuan's convertibility in an orderly manner in the next five years, by changing the way it manages currency policy and opening up the finance industry, according to the Communist Party's next five-year plan. Policy makers were preparing to announce a 2020 deadline to dismantle currency controls, according to people familiar with the plans.
"I think the longer term yuan internationalization will continue as China remains committed to opening up its capital account, and once depreciation concerns are allayed we should see yuan usage pick up again." said Khoon Goh, a senior foreign-exchange strategist at Australia & New Zealand Banking Group Ltd. "I would expect to see an increase in central banks' foreign-exchange reserves allocation into the yuan, after it's included in the IMF's basket of reserves."
— With assistance by Tian Chen
Before it's here, it's on the Bloomberg Terminal.
LEARN MORE