Venezuelan Credit Dashboard: Short-Term Default Concerns Ease
Credit-default swaps show decreasing risk of non-payment

Foreign reserves, however, sink to new 13-year low of $12B
Venezuela, which has the largest crude reserves on the planet, has defied predictions of default since the oil collapse started in 2014 and analysts are split as to how long the nation of 30 million can hold out. With that in mind, Bloomberg took a closer look at some of the key components that may determine its fate.
Debt Payments
The government and state oil company Petroleos de Venezuela SA have to pay a mere $45 million in principal and interest on debt in June and only $70 million in July, according to data compiled by Bloomberg. A bigger test comes in August, when the country has to pay $1.2 billion (that amount falls to $726 million when dual-currency, government TICC bonds denominated in dollars and payable in bolivars are excluded).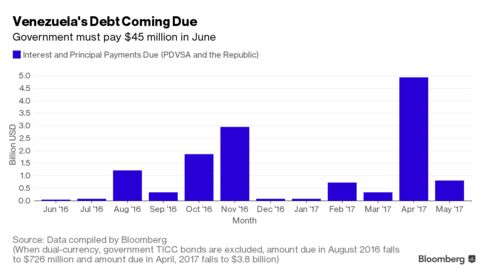 Bond Prices
Venezuela's dollar bonds were little changed in May, with the government's benchmark notes due 2027 trading at 42.29 cents on the dollar and yielding 24.5 percent. The securities hit a six-month high on May 13.
PDVSA's $3 billion of bonds due in 2022 fell 1.8 cents in May to 44.42 cents on the dollar to yield 36.5 percent.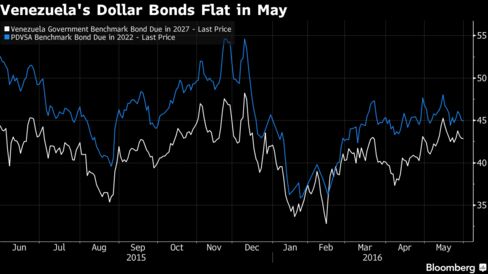 For a QuickTake explainer on Venezuela's economic and political crisis, click here.
Credit-Default Swaps
Trading in credit-default swaps show that investors have lowered short-term default expectations. While Venezuela is still by far the most likely country to default in the world, the implied probability that it happens over the next 12-months fell to 62 percent from 79 percent earlier this year. That figure rises to 97 percent over a five-year span.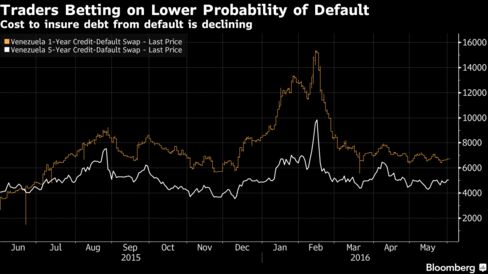 Central Bank Reserves


Venezuela's international reserves continued to tumble in May, falling $712 million to a 13-year low of $12 billion. Reserves declined $523 million in April and $331 million in March, according to data compiled by Bloomberg. The nation also cut its gold reserves by 16 percent in the first quarter, according to International Monetary Fund data.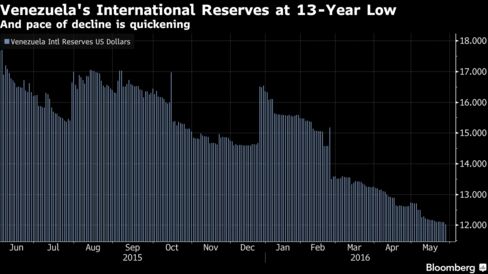 Currency Rates
Venezuela's weakest official rate, used mostly for imports deemed non-essential, plunged 29 percent in May to 530 bolivars per dollar and has tumbled 63 percent so far this year. Still, the complementary system, known as DICOM, only accounts for about 8 percent of government currency allocations, with the remaining amount being sold at the priority rate of only 10 bolivars per dollar.
Economy Vice President Miguel Perez Abad said in an interview last month that the DICOM exchange rate was close to reaching "equilibrium," and that more supply should begin to materialize in the short-term.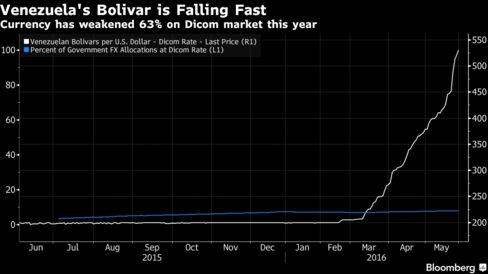 Crude Prices
If there's one bit of good news for Venezuela, it's that the price it receives for its oil exports has risen for the past seven weeks. At $38.48 a barrel, its up almost 80 percent from a low of $21.63 a barrel in January. Still, the basket of crude grades hasn't recovered as much as the West Texas Intermediate benchmark as Venezuela offers oil at the biggest discounts in seven years as the third-largest supplier to U.S. refineries fights to defend its market share from Canadian and Middle Eastern producers.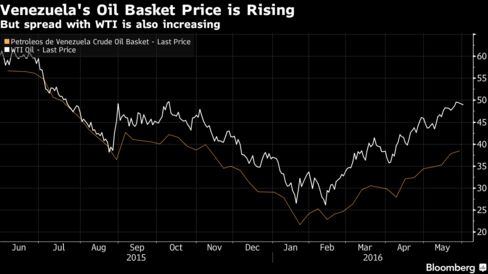 Social Tension
Social tensions are rising as the country further restricts imports of goods to pay debt. In May, the number of attempted and successful looting incidents rose to a record, according to the Venezuela Observatory of Social Conflicts.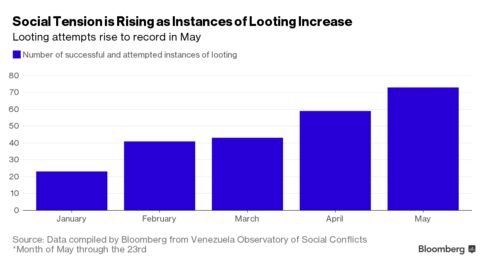 To read about Venezuela's burgeoning black market resale business, click here.
Shortages of basic goods coupled with a crippling recession and insecurity have pushed President Nicolas Maduro's approval rating down to as low as 25 percent. The Organization of American States will call a meeting this month to discuss the situation in the country including opposition calls to hold a recall referendum this year.
Last month alone, Empresas Polar SA, the nation's largest food producer, said it was suspending beer production since it is unable to import barley. Meanwhile, Coca-Cola Co. stopped output of the sweetened beverage on a lack of sugar and airlines Deutsche Lufthansa AG and Latam Airlines Group SA suspended routes to the OPEC nation.
Before it's here, it's on the Bloomberg Terminal.
LEARN MORE