No Letup for Saudi Arabia as Devaluation Bets Surge: Chart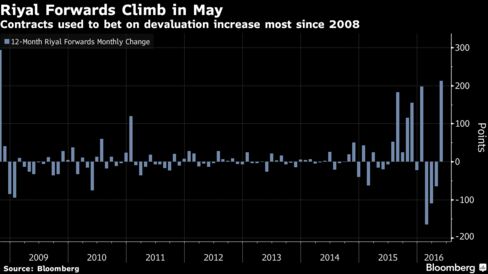 Traders wagering Saudi Arabia will adjust its three-decade old peg to the dollar propelled 12-month riyal forward contracts to their steepest increase since 2008 in May, according to data compiled by Bloomberg. While they have yet to reach the two-decade peak seen in January, the advance came despite the price of oil almost doubling since then, underscoring the conviction among some investors that the kingdom may change the peg amid mounting fiscal pressures. The appointment of a new central bank governor, a proposal to pay contractors with IOUs to conserve cash and efforts by the regulator to monitor speculation helped spur the bets.
Before it's here, it's on the Bloomberg Terminal.
LEARN MORE