Brazil Belt-Tightening Has Education Giant Seeking Private Funds
Kroton, rivals mull options to finance state-backed loans

CEO Galindo aims to announce venture with bank by year end
As Brazilian subsidies for everything from housing to student loans dry up amid the recession, the country's biggest education company is betting private financing will help fill the gap.
Kroton Educacional SA, which has more than 1 million students, is working on a joint venture with a bank to provide financing for higher-ed student loans -- a first step, though one that Chief Executive Officer Rodrigo Galindo says isn't enough. It's also working with competitors on a proposal to shift some financing of state-sponsored loan programs such as Fies and Pronatec to private entities, he said.
"There is no political or social room for ending Fies,'' Galindo said in an interview at Bloomberg's Sao Paulo office. One option is to issue asset-backed notes, as is already being done with agriculture and real-estate funding, or use part of banks' deposit requirements to finance student loans, he said. "We have an idea of what we want to present to the government, but it's not ready yet.''
Help from the private sector would be welcome, as the government scrambles to control costs as revenue falls short of estimates amid the worst economic contraction in a century. Loans to lower-income students, already cut in 2015, run the risk of shrinking again if they are dependent on federal funding, while purely private financing isn't attractive because of Brazil's high interest rates.
Prohibitive Costs
While tuition at public universities is free in Brazil, competition means most applicants don't get in and they must turn to private colleges, where the costs can be prohibitive. Brazil ranks 122 out of 140 countries in quality of education in the latest competitiveness report by the World Economic Forum, behind countries like Uganda, Cambodia and Venezuela.
Kroton is discussing private financing with other education institutions and Galindo said they should present their ideas to the new Education Minister. For exclusively private financing, the Sao Paulo-based company is in talks with one bank and the venture will likely be announced by the end of the year, he said.
Education stocks took a hit last year after the government made surprise changes to the Fies program, including cutting the number of slots by 50 percent.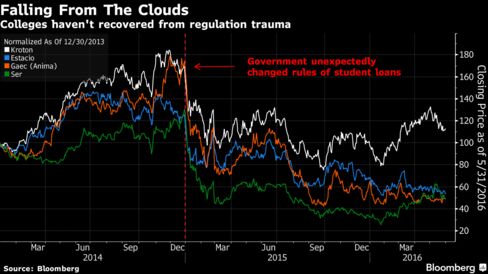 The move, announced in the official gazette in the last days of 2014, brought volatility to an industry that investors saw as shielded from the government intervention that battered the electricity and oil industries. In fact, the motto for the second term of suspended President Dilma Rousseff, which started in January 2015, was the "Educator Nation."
"The moment the rules changed, investors understood that there isn't such a thing as an untouchable sector," Pedro Paulo Silveira, chief economist at brokerage Nova Futura, said from Sao Paulo. "That reality -- the regulatory risk -- has been priced in the stocks of the universities."
As the government reduces the number of available Fies loans, their importance on Kroton's balance sheet is also dwindling, according to Galindo. Just 5 percent of total undergrad students that enrolled with Kroton in the first quarter used Fies. That compared with 25 percent who used the group's private financing plan, known as PEP. Still, Fies accounts for about 20 percent of the company's existing undergrad student loans.
Elevating Enrollment
"It is an absolutely relevant public policy. We continue defending, supporting and trying to improve Fies," Galindo said. "For education companies, the success over the next 10 or 20 years will be based on who can better provide financing."
Private financing might be the best way for the government to achieve its goal of having a third of the population between 18 and 24 enrolled in an undergrad course by 2024. Per Kroton's accounts, the number of enrolled students should rise about 80 percent from the current 7.8 million, Chief Financial Officer Frederico Abreu said in the same interview.
"We are not proposing anything that doesn't already exist in other countries,'' Abreu said. "All developed countries with a higher percentage of educated workforce were able to expand it with government subsidies, and also contributions of the private sector.''
Before it's here, it's on the Bloomberg Terminal.
LEARN MORE