Economic Takeaways From Korea's Trade, Consumer Price Data
Exports drop 6% y/y, the 17th consecutive monthly drop

May inflation 0.8% y/y, less than 1% reached in April
Here is what you need to know about economic data for South Korea released on Wednesday: Trade remained weak despite hopes for an improvement, while consumer prices are still well below the Bank of Korea's target, underscoring pressure on the BOK to reduce borrowing costs that are already at a record low. Government bond yields fell on Wednesday as data trailing estimates fueled rate-cut bets.
EXPORTS AND IMPORTS (MAY)
Exports fell 6 percent from a year earlier, the smallest drop since November though far from the 0.4 percent decline forecast in a Bloomberg survey. Imports slid 9.3 percent, versus projections for a 9.7 percent decline.
The trade ministry said the exports situation for June will be complicated by a global economic slowdown and an increase in uncertainty with a potential Federal Reserve rate change and the possibility of the U.K. leaving the European Union.
Exports to the U.S. increased 0.7 percent. Those to China fell 9.1 percent, those to Japan dropped 12.4 percent and those to the EU declined 13.1 percent.
Separately, the central bank said the current-account surplus for April narrowed from the previous month to $3.37 billion, the 50th month of excess in this key measure of trade.
The narrowing of the current-account surplus stemmed from a decline in the goods trade surplus and the concentration of companies' overseas dividends payments in April, according to the BOK. BOK official Shin Byung Kon said the narrowing will likely be "temporary."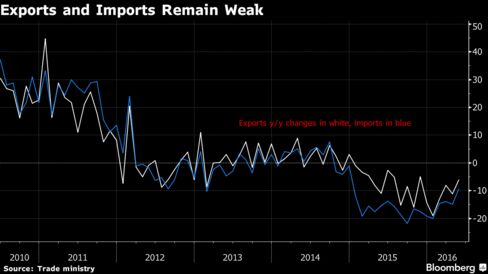 The takeaway: An improving exports picture will be key to a rebound in South Korea's economy, which generates almost half of its gross domestic product from overseas sales. State-run think tank Korea Development Institute lowered its outlook for 2016 growth to 2.6 percent in May from 3 percent as the exports slump is expected to persist.
Economist view: "I had expected exports to rebound based on positive figures for the first twenty days of May, but it seems a recovery won't come so easily with the global economy not strong," said Lee Sang Jae, an economist for Eugene Investment & Securities in Seoul. Subject to any sudden drop in commodity prices or problems in emerging markets like last year, Lee still expects improvement in exports in the fourth quarter.
CONSUMER PRICE INDEX (MAY)
CPI inched up 0.8 percent from a year ago (versus 0.9 percent gain forecast).
Core CPI, which excludes oil and agricultural products, rose 1.6 percent from a year earlier (versus 1.6 percent forecast).
The cost of processed food and beverages rose 0.8 percent from a year earlier, while clothing increased by 2.2 percent.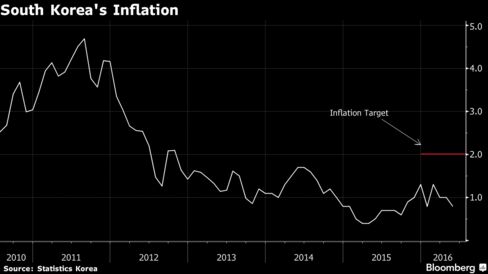 The Takeaway: Moderate price increases, even with the impact of higher oil costs, supports the argument that the Bank of Korea may cut rates in coming months. The benchmark inflation gauge still remains well below the central bank's 2 percent target.
Economist view: "Inflation falling further from 1 percent reached in April means that consumer spending isn't active enough to support growth," Suh Dae Il, an economist at Mirae Asset Daewoo Co., said before the data was released. "Local gasoline prices are at about one-year high, which should have added price pressures."
Before it's here, it's on the Bloomberg Terminal.
LEARN MORE