ECB's Corporate Bond Purchase Program Spurs Issuance: Chart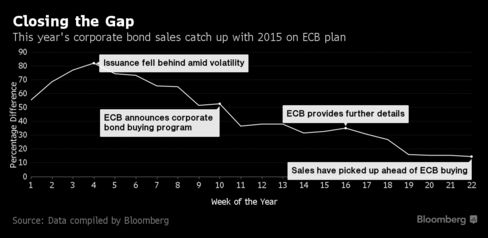 The gap between the volume of non-financial corporate issuance this year compared with the same stage in 2015 has sharply narrowed since the ECB announced that investment-grade bonds from the sector would be included in its QE program. At the end of May, the 167.53 billion euros ($186.5 billion) of corporate bonds issued this year was 14.4 percent below the same point in 2015, a significant narrowing from 82 percent at the end of January. The central bank is expected to begin buying corporate bonds this month.
Before it's here, it's on the Bloomberg Terminal.
LEARN MORE