Chasing China's New Drivers Risks Gasoline Glut for Refiners
China's production, inventories of gasoline at record levels

More gasoline exports from China seen pressuring margins
Chinese fuel makers rushing to cash in on the nation's booming car market may end up creating a glut of gasoline, possibly forcing the excess onto overseas markets.
Stockpiles of the fuel surged to a record in April as production during the month and in March increased to the highest ever, government data and Bloomberg calculations show. Meanwhile, exports in the first four months jumped 36 percent from the a year earlier.
Even demand for more, and bigger, cars hasn't been able to soak up the excess supply as fuel makers in the world's second-biggest oil user maximize gasoline output. That could be bad news for refiners abroad if China producers start shipping even more of it overseas.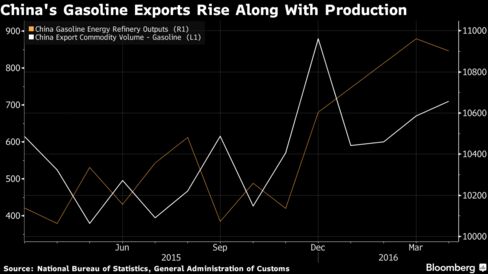 "The growth in gasoline output in China is overwhelming demand, forcing refiners to shift supplies outwards to ease the oversupply at home," Peter Lee, an analyst with BMI Research, said in an e-mail. "This poses a threat to gasoline margins in the region, which already remain weak amid rising supplies from other gasoline-exporting countries."
Profits in Asia from making the fuel -- known as the refining "crack" -- slipped to $12 a barrel in March and April, from $16 in the first two months of the year, as prices came under pressure from a global surplus, according to consultant FGE.
SUVs
China's refiners have been adjusting their facilities to produce more gasoline as demand growth for the fuel outpaces diesel, which is suffering the effects of slowing industrial activity. The nation's gasoline consumption is forecast to grow 7.4 percent this year, while diesel may climb 0.4 percent, according to China National Petroleum Corp.'s annual research report.
Monthly vehicle sales averaged 2.16 million in January to April, more than 5 percent higher than the full-year average in 2015. Sport utility vehicles accounted for almost 35 percent of total passenger vehicle sales in the first four months of this year, up from 29 percent last year, according to Bloomberg Intelligence data.
China's gasoline production increased 10.7 percent in the first four months from a year earlier, data from the National Bureau of Statistics show. Gasoline demand will have to pick-up significantly in the coming months to avert it becoming the "next diesel," Lee said, referring to the country's surge in exports of the fuel.
Diesel Déjà Vu
China started to flood regional markets with diesel from the middle of last year as stockpiles swelled amid slowing industrial activity at home. Diesel exports increased to a record 1.25 million tons in March, more than four times shipments in the same month a year earlier.
"Expanded gasoline-to-diesel ratio, coupled with accelerated teapot runs, have contributed to a growing gasoline surplus in the domestic market," said Wendy Yong, an analyst with FGE in Singapore. "This will support high gasoline exports in the near-term."
The nation's independent refineries, known as teapots, have been increasing runs after they were allowed to import crude oil. The utilization rate at the plants in Shandong province increased to 53 percent of capacity as of April 29, according to industry website Oilchem.net. That's the highest since at least August 2011, when Bloomberg started compiling the data.
China's gasoline exports may rise to as much as 300,000 barrels a day by the fourth quarter of this year if refiners come under pressure to lower their stockpiles, according to Michal Meidan, an Asia energy analyst at Energy Aspects Ltd. In April, the country exported 710,000 tons, or about 201,000 barrels a day.
— With assistance by Sarah Chen, and Jing Yang
Before it's here, it's on the Bloomberg Terminal.
LEARN MORE