BOJ's Eventual Stimulus Exit Could Eat Up Reserve in Five Months
Policy maker Kiuchi sees 7 trillion yen loss a year at exit

Central bank funds set aside are 'drop in the bucket': JRI
The profits the Bank of Japan has made with its bond-buying stimulus wouldn't cover five months of losses should it exit the policy, based on the estimate of one board member.
The BOJ has approximately 2.7 trillion yen ($25 billion) in provisions for potential bond losses after setting aside 450 billion yen in the 12 months ended March, its financial statement showed Friday. Policy maker Takahide Kiuchi in December estimated the central bank could face losses during a taper of its stimulus of 7 trillion yen per year.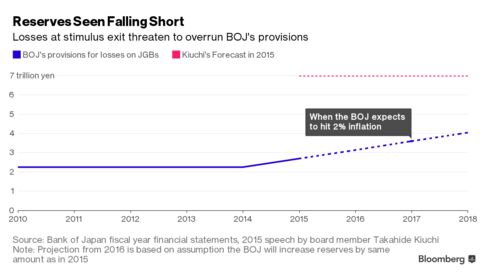 "What the BOJ has set aside for a possible exit is just a drop in the bucket," said Sayuri Kawamura, a senior economist at the Japan Research Institute Ltd. in Tokyo. "When the time comes, the BOJ will need trillions of yen. It will just eat up its assets."
The BOJ faces potential losses on bond holdings and higher interest payments on lenders' reserves when it tapers stimulus, with Governor Haruhiko Kuroda projecting 2 percent inflation will be achieved in the 12 months ending March 2018. The longer extraordinary policy continues, the greater those losses would be. It's already set to continue for at least four years, after Kuroda originally stated a two-year time frame.
Excess Reserves
Commercial lenders' excess reserves have swelled five-fold to 287 trillion yen as a by-product of the central bank's unprecedented bond buying, which was launched on April 2013.
BOJ board member Kiuchi has long resisted the push deeper into uncharted waters, opposing at least a part of the central bank's policy decisions since the start of Kuroda's easing. At the most recent meeting, he was the sole dissenter on the agreement to keep expanding the monetary base at an annual pace of 80 trillion yen, and one of two opponents to continuing with a negative deposit rate.
For now, the central bank's record holdings of 32 percent of outstanding Japanese government bonds is proving lucrative, as its own policies -- including the negative rate announced in January -- push yields to unprecedented lows.
Negative Yield
JGBs have returned 7.5 percent over the past year, according to a Bank of America Merrill Lynch index. The yield on the benchmark 10-year note was minus 0.115 percent on Thursday in Tokyo, after dipping to a record minus 0.135 percent this year.
The central bank is holding on to as much as half of the profits from the interest received on its bond holdings, after an accounting rule change in November. The BOJ typically turns over most of its earnings to the Finance Ministry.
"It's obvious that the amount of funds that the BOJ has set aside won't be enough, but for those who have been watching the central bank closely, you can see its effort in trying to do what it can for now," said Masamichi Adachi, a senior Japan economist at JPMorgan Chase & Co. "A healthy fiscal state would be a prerequisite for any sort of exit. If there isn't one, any kind of conventional procedure isn't going to work."
Before it's here, it's on the Bloomberg Terminal.
LEARN MORE