Australia's Swedish Lesson: Rate Cuts In Play Despite Growth
Growth underpinned by export surge that looks 'good on paper'

Next CPI release in late July, implying possible August easing
Australia's fastest growth in four years is unlikely to dissuade policy makers from cutting interest rates to fan inflation: Just look at Sweden.
The Nordic nation grew an annual 4.2 percent in the first quarter while running negative rates and a bond-buying program to revive inflation that's failed to reach its target for half a decade. Data from Down Under Wednesday showed growth of 3.1 percent from a year earlier, yet the Reserve Bank of Australia cut in May after inflation fell below its target range and is likely to stay there for the remainder of 2016.
"The problem for the RBA is that while the headline number looks really good, none of that is really inflation-making growth because it's from net exports," said Sally Auld, head of fixed-income and currency strategy for Australia at JPMorgan Chase & Co. "Exports look good on paper, but they're not going to help them overcome the structurally lower inflation story in Australia."
Australia isn't alone. As central banks from Switzerland to Japan drive their policy rates below zero, the absence of inflation in economies flooding the ether with money is striking. Annual consumer prices in Japan fell in March and April, while much of Europe remains mired in deflation. Even in the U.S., where gross domestic product is growing faster than 2 percent annually, there was virtually no inflation last year.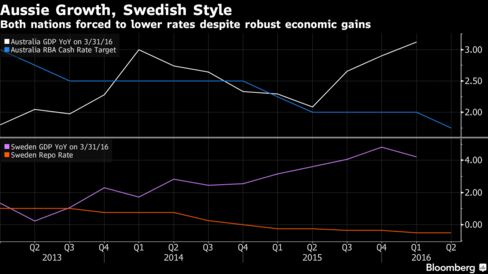 Auld expects Australia's central bank to wait for late July's CPI release and then cut the cash rate by 25 basis points at the following meeting. She says the stronger headline economic growth means Governor Glenn Stevens doesn't have to rush to ease at next week's decision. She predicts her terminal rate of 1 percent will be reached in the second quarter of next year.
Australia's economy grew 1.1 percent in the first three months from the final quarter of last year, driven by a 4.4 percent jump in exports that added a percentage point to growth. The expansion of overseas shipments reflects the final stage of the country's mining boom, when increased capacity allows more minerals to be shipped. At the same time, the key iron ore price has slumped, meaning the higher volumes aren't generating a big expansion in income.
Still, data out Thursday showed that export revenues rose 1 percent in April, helping to pare the nation's trade deficit to A$1.58 billion ($1.15 billion) -- the narrowest since February last year and a better result than most economists had forecast. A separate report showed monthly retail sales rose by a lower-than-estimated 0.2 percent.
Good Timing
Prime Minister Malcolm Turnbull, in the middle of a tight election campaign, hailed Wednesday's growth figures, which came in above the Treasury's estimated 2.75 percent growth potential of the economy.
But the reality is that while output is rising, national income isn't: commodity prices are falling and wage growth is at recession levels. These two factors are constraining tax revenue and leaving the government with a gaping and persistent budget deficit.
Stevens, meanwhile, reaffirmed his commitment to the central bank's inflation target of 2 percent to 3 percent on average following criticism that the May rate cut was a knee-jerk reaction to weak consumer-price growth. The target is the "best monetary framework we've ever had and we've tried a bunch," he said last week in Sydney.
One risk from reducing or abandoning the target is that inflation expectations could become entrenched at a lower level, a risky proposition when the cash rate is already just 1.75 percent.
Swift Reaction
In the first quarter, Australia recorded its weakest annual consumer-price growth in the domestic economy in 17 years, seen in the non-tradables sector which isn't prone to one-off swings, and the lowest core inflation reading ever. Days after that report was released, the RBA ended a one-year pause and cut rates by a quarter point.
Traders are pricing in almost no chance of cuts next week and in July, while August is close to a 50-50 split, according to swaps data compiled by Bloomberg.
Gareth Aird, a senior economist at Commonwealth Bank of Australia, said the combination of strong growth and weak inflation represents "a unique set of circumstances" that will "continue to perplex policymakers and complicate the interest-rate outlook."
At the end of this month, Australia will have gone 25 years without a technical recession, defined as two straight quarters of contraction. Could the struggle to revive inflation supplant the long-term growth story for the Lucky Country?
Before it's here, it's on the Bloomberg Terminal.
LEARN MORE