Dubai has some great bars and lounges - so long as you are happy to drink in hotels and shopping malls, because that's where the licences are.
Cocktails can be very good once you step away from obvious tourist establishments and their sugary concoctions. Just don't expect too much when it comes to wines. Almost everywhere, lists are dominated by overpriced supermarket favorites such as Pinot Grigio and Shiraz.
Here are some places to try.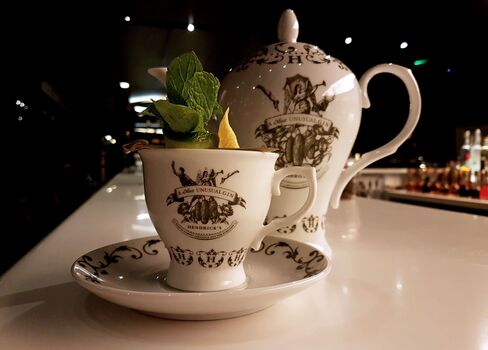 This fabulous restaurant and lounge atop the H Hotel is among my favorites. There are great cocktails such as the Hendricks Lemonade for two, served in a teapot with gin for 75 dirhams ($20.42). It's topped with fresh mint. The bar staff are engaging, the design is elegant, and the crowd is sophisticated. The website is sadly minimalist but don't be put off.
H Hotel Dubai Floor 36, Office Tower, Sheikh Zayed Road; +971 4 225 6000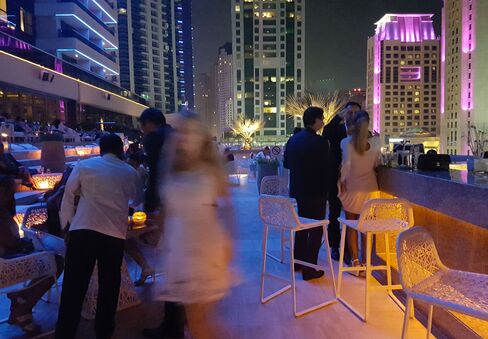 This rooftop Siddharta Lounge by Buddha Bar at the Grosvenor House is the most glamorous I visited. The views are spectacular, as is the lighting, and this is a good place to chill out on a sofa, with cocktails or a shisha if that is your thing. I didn't try the food - the large menu is Mediterranean - but I did enjoy the cocktails, mostly priced at 65 dirhams.
Grosvenor House; Dubai Road; +971 4 317 6000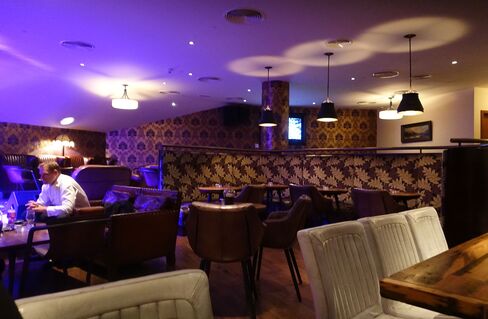 This speakeasy-style bar and restaurant at the Dubai International Finance Centre is hard to find. That's Prohibition chic for you. There's a cool lounge with a retro look, live music and cocktails such as the Fine Tipple, with sherry, grapefruit & orange sherbet, Maraschino, Champagne. House rules include: "Gentlemen will not introduce themselves to ladies."
M Floor, Al Fattan Currency House, Dubai International Finance Centre; +971 4 343 5518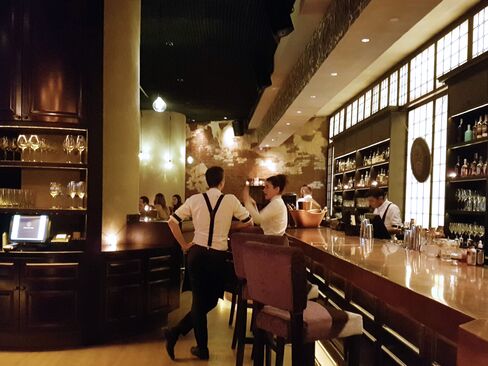 Little Black Door is another speakeasy, and again rather hard to find, though it is right off the lobby of the Conrad. Step inside the dark and mysterious room and sip cocktails such as the Not So Colada: homemade banana & lemongrass-infused rum with coconut water, clarified pineapple juice and eucalyptus (80 dirhams). The quirky playlist features Missy Elliott.
The Conrad Dubai, Sheikh Zayed Road; +971 55 623 1620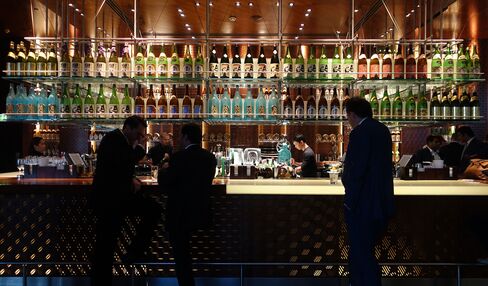 If you know Zuma in London (or Miami or wherever) you will know what to expect: an extremely lively bar scene, beautiful people, great cocktail list, cool music. Please note that unlike at R Trader, gentlemen are not discouraged from introducing themselves to ladies.
Gate Village 06, Podium Level, Dubai International Finance Centre; +971 4 425 5660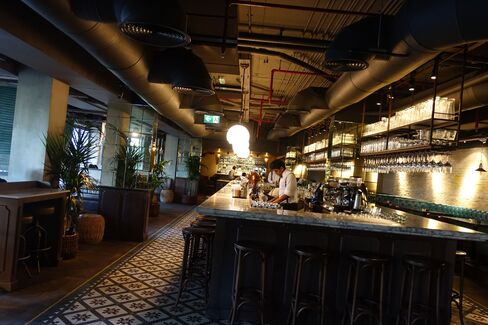 This New Orleans-themed "eatery and social house" is one of the most popular venues in Dubai, though i wasn't especially taken with it. Nola gets jammed at night. If you are not looking for quite such a lively bar scene, it's worth going early for the hapy hour, with some drinks at 50 percent off between 5 p.m. and 8 p.m. Nola is also right next door to Cocktail Kitchen (below) so you can make a night of it.
B1 Level, Armada BlueBay Hotel,Cluster P, Jumeirah Lakes Towers; +971 4 399 8155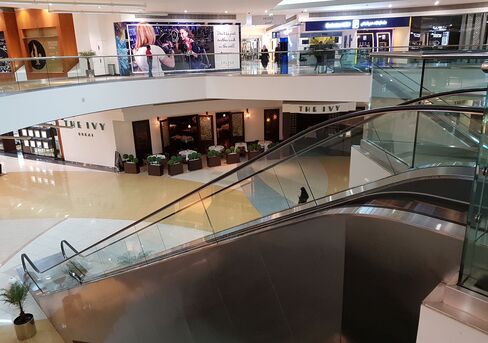 I love the Ivy in London and feel sad when I see the original decor replicated around the world, including here, where the Dubai outlet sits beneath escalators in a shopping mall. There's a ladies night, a steak night and food & beverage vouchers. It all feels cynical, though I must say the group of English drinkers sitting beside me at the bar sounded like they were enjoying themselves.
Ground Level, The Boulevard, Jumeirah Emirates Towers; +971 4 319 8767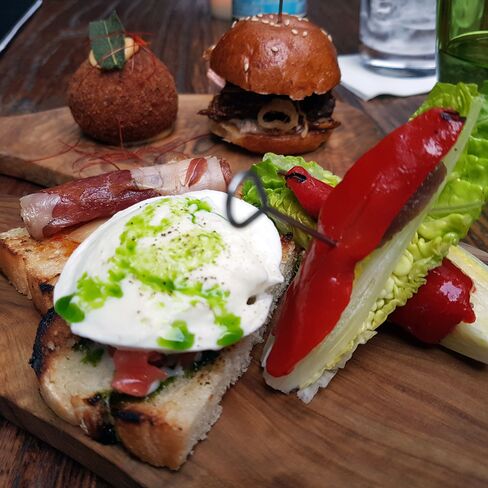 This venue in the Dubai International Finance Centre is particularly worth visiting for the happy hour menu, when you can get five pintxos and a drink for 75 dirhams or 10 and a jug of sangria for 200. The snacks, including baby gem, piquillo, anchovy and pulled barbecue chicken slider (served between 6 p.m. and 8 p.m.) were a good start to a night on the town.
Gate Village 6, Dubai International Finance Centre; +971 4 323 1833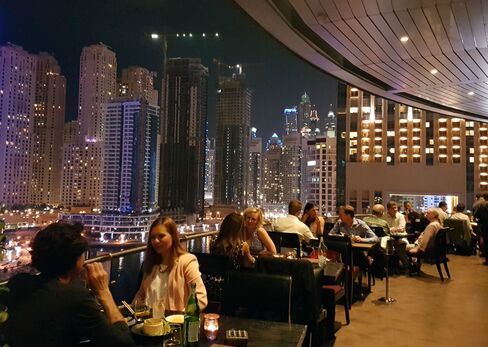 Right on Dubai Marina, Pier 7 is a building given over to entertainment venues, of which Asia Asia is notable for its Buddha Bar-style lounge and a dining terrace with a fine view. There's a pan-Asian menu, including sushi and dim sum, if you want to eat, or you may just prefer the dark and moody bar and lounge. It was so dark that I had to ask the barman for a flashlight to see the drinks list. My bill tells me I paid 59 dirhams for a "Tiny-Tini" but that's not ringing any bells. It was a long night.
6th Floor, Pier 7, Dubai Marina; +971 4 4 276 5900
This is the new cocktail bar on the highest floor of the super-luxury Burj Al Arab. There's a resident DJ and weird cocktails such as the Light Sweet Crude, with foie gras and blackened truffle oil. Drinks cost 100 dirhams a pop, which is expensive but not outrageous for a chance to explore this extraordinary hotel. On the night I visited, Gold was quiet and oddly gloomy. Maybe I was unlucky.
27th Floor, Jumeirah Burj Al Arab, Jumeirah Beach Road; +971 4 301 7600
This new bar and restaurant at the Armada BlueBay is currently among the hottest in Dubai. The design is clean and uncluttered, the cocktails are carefully made and the food is unfussy. The Vinyl Brunch served on Fridays is particularly popular. But the biggest talking point is the Aperitivo Time happy hour, with cocktails at just 19 dirhams. A barman at another popular spot said he didn't understand how they could manage such low prices.
B1 Level, Armada BlueBay Hotel, Cluster P, Jumeirah Lake Towers; +971 56 828 0727
Richard Vines is the chief food critic at Bloomberg. Follow him on Twitter@richardvines and on Instagram @Richard.vines
Before it's here, it's on the Bloomberg Terminal.
LEARN MORE