Commodity Hedge Funds Get $5 Billion Embrace on Oil Gain
Money managers making profits again as investors return

Andurand and ZP Energy among commodity funds gaining this year
The rally in oil has given a fillip to long-suffering commodities hedge funds. After four years of hemorrhaging cash and clients, managers are once again making money and winning back investors.
About $5 billion has coursed into the funds in 2016, with the first quarter seeing the biggest inflows since 2009, according to data compiled by eVestment. Investors are being drawn by gains such as the more than 18 percent increase reported in a letter to clients by Stuart Zimmer's ZP Energy Fund in New York and the 12.7 percent posted by oil trader Pierre Andurand's $1.1 billion Commodities Master Fund in London. Officials at the funds declined to comment.
"Funds that survived a significant fall in the oil price and in most commodities are clearly real hedge funds," said Michele Gesualdi, the London-based chief investment officer for hedge-fund investing at Kairos Partners, who oversees $2.5 billion and has re-started investing in commodity funds. "There are not many funds operating in this asset class and some of them are extremely volatile."
U.S. Growth
With crude flirting with $50 a barrel, after dropping to almost $26 in February, gold up about 14 percent this year and soybeans 24 percent higher, investors are betting that an expanding U.S. economy will spur global growth. Commodity prices are unlikely to return to lows seen in the first quarter, according to Citigroup Inc., which boosted forecasts for assets from metals to grains this week.
Commodity money managers suffered outflows totaling $6.2 billion from 2012 through 2014, starving them of capital and forcing some of the best-known players out of the business. More than a dozen asset managers closed funds, including Clive Capital LLP, Centaurus Energy LP and firms such as Higgs Capital Management and Mastic Investment.
Now the prospect of higher oil prices is encouraging new startups. Luke Sadrian, who has previously managed money for Brevan Howard Asset Management and Moore Capital Management, said he is preparing to open a commodities fund in London in the second half.
Oil Upside
Commodities World Capital will trade futures and options on all commodities and bet on an increasing oil price, Sadrian said in an e-mail Wednesday. "Even from these new higher prices, we see 20 percent to 40 percent upside in crude oil," he said.
About 290 commodities-focused hedge funds tracked by eVestment managed $70.5 billion at the end of March, rebounding from a near six-year low of $65.4 billion at the end of last year. Average returns were 6 percent in the first four months of the year, after a loss of 10.4 percent last year, eVestment said. Hedge funds have returned 0.8 percent on an average this year after losing 2.2 percent in 2015.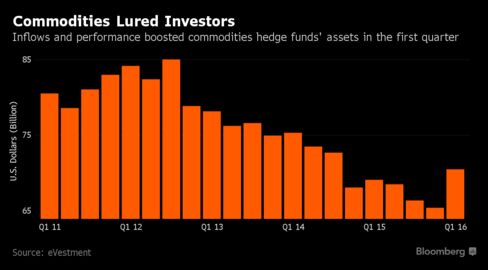 Not everyone expects the dark clouds to disappear. Goldman Sachs Group Inc. sees no "sustainable shift in fundamentals" and says higher U.S. interest rates will keep the outlook bearish.
Concerns that China's faltering economy and its growing bad-debt burden will slow growth will continue to weigh on some commodities like iron ore and copper, which have tumbled 24 percent and 7.3 percent respectively this month. That helped drag the 98-member Bloomberg World Mining Index down 9.7 percent in May.
'Politically Incorrect'
It's almost "politically incorrect to say that you're buying commodities," but those investing will earn strong returns in the next two to three years, said Geoff Blanning, head of commodities at London-based Schroders Plc. Schroders started a fund with its own money last month and is raising capital from investors to bet on the energy, agriculture and metals sectors.
Will Smith, a former CQS Management partner, is starting an equities fund in London betting on a rebound in the oil price. His Westbeck Capital Management will start trading in the first week of June, spokesman Jari Habib said by e-mail. Smith was head of natural resources at Michael Hintze's CQS Management.
The University of Michigan, a $10 billion endowment, plans to invest $30 million in a fund that will buy gold and copper mines from distressed companies, according to an agenda for a meeting on May 19.
"There are at least eight commodities which have rallied 20 percent or more already this year, " Schroders's Blanning said in a May 12 interview. "This is clearly not a bear market anymore."
Before it's here, it's on the Bloomberg Terminal.
LEARN MORE