Rich World Debt Record Has Danes Seeking Refuge in Safest Loans
The world-record holders in negative interest rates and debt are increasingly locking into the safest mortgages.
As of April, Danish households and businesses had shifted 8.4 percent more of their combined mortgage debt into fixed-rate loans, from a year earlier, bringing the total to 853 billion kroner ($128 billion), central bank data show. The development means that 33.6 percent of Denmark's mortgage debt is now in fixed-rate loans, according to industry data.
"It doesn't cost much to insure against rising rates" and "who knows where rates are going to be next year," said Christian Heinig, chief economist at the mortgage unit of Danske Bank A/S. "We know that things can change very quickly in the financial markets."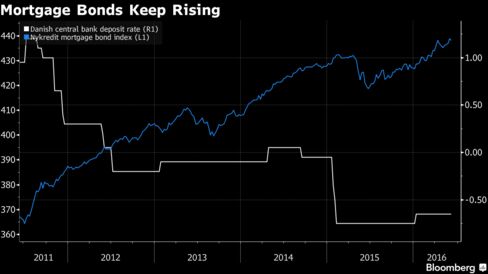 After four years of almost uninterrupted negative central bank rates, borrowing costs in Denmark have plunged across all maturities. Danes can lock into 30-year mortgages at just 2 percent. Those refinancing their home loans with shorter-dated bonds can do so at well below 1 percent. For the very shortest bond-backed mortgages, yields have even dropped below zero, though bank fees mean borrowers aren't paid to take on debt.
The record-low rates have helped Denmark's housing market rebound from its 2008 collapse. In some areas, such as Copenhagen, there is concern that price gains have even been excessive. Jyske Bank Chief Economist Niels Roenholt says apartment price developments in the capital are "grounds for concern" with low rates "helping fan a housing bubble" in the city. A Copenhagen apartment cost 10 percent more last quarter than a year earlier, Denmark's statistics agency said on Wednesday.
Speculating on the likelihood of rates staying low takes on a different dimension when you owe your creditors three times as much as you earn. Danes carry the OECD's highest private debt burden, at 305 percent of disposable incomes. Though that figure is balanced by considerable pension savings, the debt mountain has impaired household spending and retarded the country's economic recovery.
Surviving Extremes
The question is how such extremes affect a society in the longer term. Danske Bank's mortgage arm has warned that consumers risk going "blind" to the possibility that rates may rise. Its home-finance unit, Realkredit Danmark, and Nykredit Realkredit, Denmark's biggest mortgage lender, are raising fees on some of the shortest-dated bond-backed mortgages in an effort to adapt to a regulatory environment that punishes risky lending. The central bank's April figures suggest efforts to date to steer homeowners into safer loans are starting to work.
"The question is, how much do people want the security of a fixed mortgage?" said Heinig. "Everyone's different and some experts are saying rates won't rise for a while, so they're advising against it. We don't agree."
Two-thirds of Danish mortgages continue to be backed by short-dated bonds. Though most economists predict central bank rates will stay below zero until at least 2018, aggregate savings and investment data suggest those forecasts aren't supporting growth. Denmark's economy will probably only expand 1.1 percent this year, the Copenhagen-based Economic Council estimates. That compares with 1.8 percent average growth in the European Union, according to the EU Commission.
Before it's here, it's on the Bloomberg Terminal.
LEARN MORE