Portuguese GDP Expands on Consumer Spending While Exports Drop
Portugal's gross domestic product expanded in the three months through March at the same pace as in the fourth quarter after an increase in consumer spending more than offset a drop in exports.
GDP rose 0.2 percent from the fourth quarter, when it also expanded 0.2 percent, the Lisbon-based National Statistics Institute said on Tuesday. The institute had said in a preliminary report on May 13 that GDP rose 0.1 percent from the fourth quarter.
The Portuguese economy expanded 0.9 percent in the first quarter from a year earlier, the slowest pace of annual growth since the fourth quarter of 2014.
Prime Minister Antonio Costa was sworn in at the end of November and his minority Socialist government is reversing state salary cuts faster than the previous administration proposed, while increasing indirect taxes. The government forecasts economic growth will accelerate to 1.8 percent this year.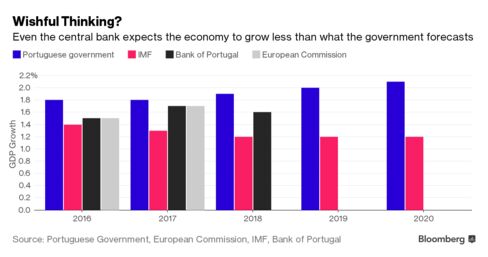 Government spending rose 0.3 percent in the first quarter from the previous three months, while household spending increased 1.3 percent. Imports rose 1 percent and exports fell 0.7 percent, Tuesday's report showed.
Portugal's unemployment rate rose for a second quarter to 12.4 percent in the three months through March as the number of jobless workers from industry and services businesses increased, the statistics institute said earlier this month.
Before it's here, it's on the Bloomberg Terminal.
LEARN MORE