Double Blow for China Banks as Fed Worry Meets June Cash Crunch
Overnight money rate climbs in tandem with weakening yuan

Regulatory checks drive funding costs higher every June
Shanghai's money market is braced for higher borrowing costs as a credit-fueled economic recovery coincides with the prospect of higher U.S. interest rates in June, a month that has historically seen funding crunches in China.
The overnight interbank lending rate averaged 1.99 percent in May, up from 1.18 percent a year ago, as Federal Reserve tightening weakened the yuan, spurring capital outflow pressures. That borrowing cost has climbed every June since 2011, as lenders hoard deposits ahead of quarter-end regulatory checks. The cost of fixing rates in the swap market is surging as data showed property leading a rebound in investment in the world's second-biggest economy.
"The internal and external factors combined will certainly add pressure to the money market in June, driving interest rates higher," said Liu Dongliang, a Shenzhen-based senior analyst at China Merchants Bank Co., the nation's sixth-largest lender. "We're not optimistic about the bond market in the short term."
Any cash crunch would aggravate a rout in bonds that led to 190.6 billion yuan ($28.9 billion) in canceled sales this quarter, making it harder for issuers to refinance a record amount of maturing debt. The overnight money rate has been moving in tandem with the weakening currency in the past year after touching a six-year low, as estimated outflows reached $1 trillion in the past year, according to a gauge compiled by Bloomberg.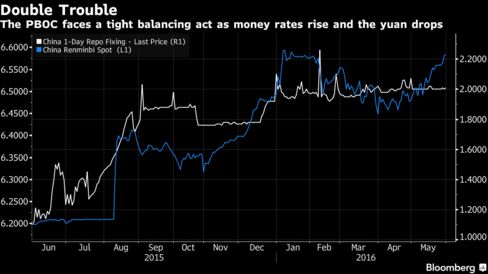 The yuan declined 1.5 percent in May as Federal Reserve Chair Janet Yellen said that evidence of strength in the U.S. economy means there could be an increase in borrowing costs in the coming months. The probability of Fed action in June has surged to 24 percent from 12 percent at the end of April, while the premium for China's one-year sovereign yield over U.S. Treasuries narrowed to a seven-week low.
The People's Bank of China has an incentive to keep monetary conditions relatively tight as it looks to control the yuan's decline, rein in excessive lending by banks and keep a lid on inflation. The authority will create a neutral and appropriate monetary environment, it said in an article published in China Business News last week. The comments came after data showed the nation's consumer price index maintained a 2.3 percent acceleration for the third month in April, a pace not seen since mid-2014.
"Conditions have been aligning for higher yuan interest rates for a while now," said Eugene Leow, a Singapore-based rates strategist at DBS Bank Ltd. "Higher inflation expectations that come from a bounce in commodity prices, the pricing in of a premium for regulatory needs and the prospect of Fed hikes have led to a reversal in the downtrend in onshore interest rates."
PBOC Focus
The one-week interbank borrowing cost is unlikely to fluctuate as much as in June 2013, when it reached a record 10.77 percent. The PBOC has been focusing on using short-term money rates to guide long-term borrowing costs after last year removing a cap on the deposit rates that commercial lenders offer to savers. It has increased the frequency of open-market operations to daily from twice a week, and kept the benchmark seven-day repo rate around 2.25 percent.
The cost of one-year interest-rate swaps, the fixed cost to receive that repo rate, averaged 2.57 percent in May, after rising to a one-year high of 2.71 percent on April 29. It was at 2.60 percent on Wednesday. The yield on 10-year sovereign bonds climbed by the most in a year in May, adding nine basis points to 2.99 percent, ChinaBond data show.
"Given the interest-rate increase cycle in the U.S., the space for further easing will be squeezed," said Ming Ming, Beijing-based head of fixed-income research at Citic Securities Co., China's largest broker. "It's far more likely for bond yields to rise than to decline now."
Cash Injections
The PBOC appears to be preparing for a cash shortage already by adding funds to the financial system. It increased the reverse repo offering in Tuesday's open-market operations to 120 billion yuan, the most since May 5, after adding a net 120 billion yuan in the last two weeks. It also injected 40 billion yuan via a treasury deposit auction on May 27.
The central bank can ill afford a cash crunch. Industrial production, retail sales and investment in April all trailed estimates as new credit undershot all 26 predictions in an analyst survey.
"The economy is still on a fragile footing and the authorities have ample tools to inject liquidity," said Leow. "A sharp interest-rate spike would be detrimental to the economy."
— With assistance by Helen Sun
Before it's here, it's on the Bloomberg Terminal.
LEARN MORE