Easing Brexit Concerns Help U.K.-Focused Stocks Rebound: Chart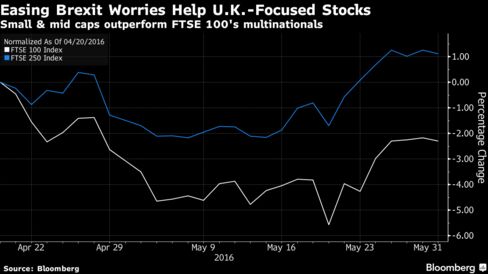 Shares of small and medium companies listed on the FTSE 250 index, more focused on the U.K. domestic economy than the multinationals listed on the FTSE 100 index, have started to outperform in the last few weeks on growing investor confidence the 'Remain' camp is set to win in the EU referendum. The outperformance could be just starting as the stocks still trade at a significant discount to big companies in terms of price-to-earnings ratios, equity strategists at Barclays Plc say.
Before it's here, it's on the Bloomberg Terminal.
LEARN MORE