Dollar Bulls Confront U.S. Economic Undershoot Dictating to Fed
Greenback gains the most during May since September 2014

Payroll data forecast to show growth in labor market slows
Investors betting the dollar's May rally will continue face a major hurdle in a slipping U.S. economy and a Federal Reserve that promises to raise interest rates only if signs of growth and inflation warrant.
The U.S. currency posted its best monthly gain in almost two years on speculation the Fed is getting closer to raising rates as soon as June. Yet economic indicators in the world's biggest economy rank among the weakest in the world, and data have underperformed relative to forecasts throughout the year, as measured by Citigroup Inc.'s Economic Surprise Index.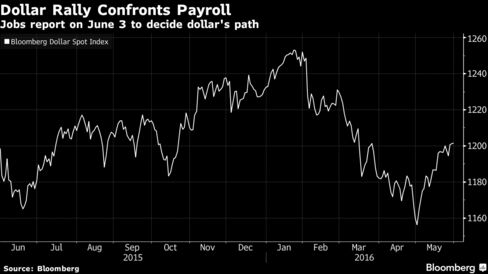 The soft economic outlook looms against the Fed's mantra of data-dependence when deciding its tightening path. Growth in the manufacturing sector slowed, while job creation was around the least in seven months, economists forecast ahead of reports this week. The U.S. currency may reverse its advance against the euro and yen as the Fed will hold off on raising rates this year and in 2017, according to BNP Paribas SA.
"While the Fed wants the hike rates, they won't get the opportunity to do so," said Michael Sneyd, a foreign-exchange strategist at BNP Paribas in London. "The data front is holding the Fed back. The dollar's going to give back some of its recent gains."
Bloomberg's Dollar Spot Index, which tracks the currency against 10 major peers, added 3.7 percent in May, its best performance since September 2014. It rose 0.1 as of 5 p.m. New York time.
Futures trading indicates a 54 percent chance the Fed will raise interest rates from the current range of 0.25 percent to 0.5 percent by July, compared with 26 percent odds a month ago.
The payroll data on June 3 will shed light on policy makers' willingness to raise rates at the June 15 meeting. America added 160,000 jobs in May, down from as high as 280,000 in November, according to the median estimate of economists in a Bloomberg survey.
"The dollar has done well in May, but right now we are not focused on dollar-centric risks, given the dense data and event-risk calendar in June," said Ned Rumpeltin, the European head of currency strategy at Toronto Dominion Bank in London. "While we are paying close attention to the dollar driver, we are also keeping careful tabs on what is unfolding on the other side of the trade."
Watch next: What Could Lead to Three Fed Hikes Next Year?
Before it's here, it's on the Bloomberg Terminal.
LEARN MORE