Billionaire Gunvor CEO Tornqvist Cutting Stake in Oil Trader
Tornqvist said to have received dividend of about $1 billion

Gunvor staff to increase holdings 'substantially' by year end
Torbjorn Tornqvist, the billionaire co-founder and chief executive officer of Gunvor Group Ltd., is reducing his controlling stake in the oil trader as employees acquire a larger holding.
The Swedish national, who has sole voting rights, will cut his 78 percent stake to 70 percent as a group of more than 200 employees increase their holding from 22 percent, Gunvor said in an e-mailed statement on Tuesday. That employee stake will rise "substantially" by the end of the year and staff-owned shares will be granted full voting rights, it said.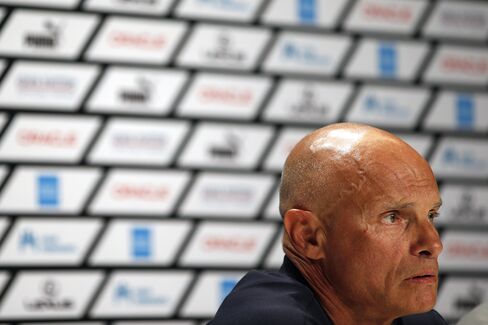 "Gunvor is now in the process of moving its ownership structure to a partnership model that will give the employees greater ownership and control of the company," according to the Cyprus-registered firm, which has its main trading operations in Geneva.
Tornqvist, 62, was awarded a dividend of about $1 billion after Gunvor reported record profit in 2015, according to a person familiar with the matter. The CEO used part of the payout to repay Gunvor co-founder Gennady Timchenko, who sold his 44 percent stake in the company to Tornqvist in March 2014, a day before the Russian was sanctioned by the U.S. for his close ties to Vladimir Putin. The dividend was also payment for the repurchase of some of Tornqvist's shares, the person said, asking not be identified because the matter is private.
Ownership Overhaul

Following his purchase of Timchenko's stake, Tornqvist had said Gunvor's ownership was too concentrated. Gunvor, which handles about 2.5 million barrels of oil and petroleum products per day, had considered bringing in an outside investor.
"We have decided for time being not to have an external investor," Gunvor said Tuesday.
The plan to overhaul its ownership and grant employees more equity will see Gunvor adopt a structure similar to competitors including Vitol Group, Trafigura Group and Mercuria Energy Group. None of Vitol's 350 employee shareholders own more than 5 percent of the world's biggest independent oil trader.
Founded by Tornqvist and Timchenko in 2000 as a major trader of Russian crude, Gunvor has diversified its operations in recent years to open trading offices in Singapore, Shanghai and Dubai. The company reported record profit of $1.25 billion last year after selling the bulk of its Russian assets.
Gunvor owns three European refineries in Germany, the Netherlands and Belgium and has about 1,500 total employees.
The dividend paid to Tornqvist was first reported earlier Tuesday by the Financial Times.
Before it's here, it's on the Bloomberg Terminal.
LEARN MORE