Some Cold, Hard Facts for Brexiteers
Europe's richest nations have a high concentration of foreigners
For Brexiteers who want to cut immigration by leaving the European Union, don't look to Switzerland or Norway as a guide.
The two nations — often cited as post-Brexit models as they are outside the EU but still collaborate closely with the bloc — both have a considerably higher percentage of foreigners than the U.K.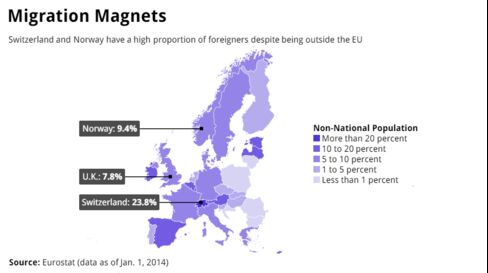 Those numbers haven't hurt the countries' economies: Norway and Switzerland are among Europe richest by gross domestic product per capita — topped only by Luxembourg, which at more than 45 percent has the largest proportion of foreigners in the EU.
Migrants tend to go where there are jobs and the economy is doing well, according to Philippe Legrain, a former economic adviser to the president of the European Commission. They are attracted by the opportunities offered by cities such as London, but help create additional employment and growth, he said.
"The causality goes both ways as there is a magnet effect and a magnifying effect," said Legrain, who is also a senior visiting fellow at the London School of Economics. "London's experience is overwhelmingly positive."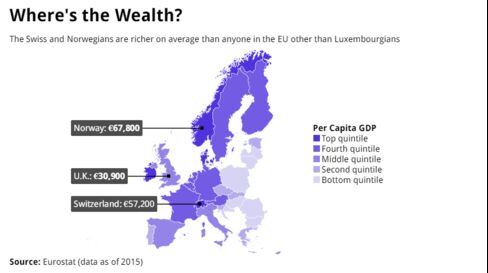 While more than half of Britons surveyed last month by Ipsos Mori thought that leaving the 28-nation trading bloc was the only way to cut immigration, the economy was ranked as the most important issue influencing how they will vote. As the June 23 referendum looms, voters should understand the two matters are closely linked, said Rene Schwok, director of the Global Studies Institute at the University of Geneva.
"The key factor explaining immigration is the economy and not legislation," Schwok said in an interview. "If the U.K. remains wealthy, then it will still attract a lot of immigrants."
In many of Europe's poorest countries, including Bulgaria, Romania, Croatia and Poland, Eurostat figures show that less than 1 percent of the population are non-nationals.
The LSE's Centre for Economic Performance said earlier this month that a reduction in immigration into the U.K. if the country votes for a Brexit wouldn't lead to any improvement in living standards for those born in Britain.
And despite the influx of foreigners — net migration to the U.K. climbed to 333,000 in 2015 — the country's unemployment rate of 5.3 percent remains one of the lowest in Europe. Among the countries with lower rates are non-EU members Switzerland and Norway and the bloc's biggest economy, Germany.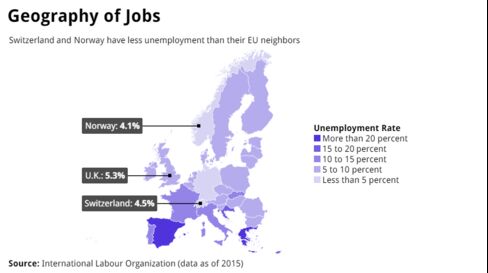 For a QuickTake explainer on Brexit, click here.
Michael Bloomberg, the founder and majority owner of Bloomberg LP, the parent company of Bloomberg News, has publicly supported the campaign to keep the U.K. in the EU.
--With assistance from Jonas Bergman.
Before it's here, it's on the Bloomberg Terminal.
LEARN MORE