1,300 new call-center jobs, 70 wireless employees part of pact

Company's 39,000 landline workers return to jobs Wednesday
Verizon Communications Inc. and its two unions reached an agreement on a new labor contract, paving the way for about 39,000 landline employees to return to work after walking off the job more than six weeks ago.
The new accord, which still must be ratified by union members, gives workers a pay increase of more than 10 percent through the end of the contract in August 2019, according to a statement from the company. For the first time, the labor agreement extends to about 70 wireless retail store employees in Brooklyn and suburban Boston. The deal also includes the addition of about 1,300 new call-center jobs.
The union managed to win concessions on pension benefits and temporary work assignments while the company made gains on reducing benefits costs by modifying employee health-care plans. Union members are expected to return to work on Wednesday and Candice Johnson, a spokesman for the Communications Workers of America, said the ratification vote should be done by mid-June.
"The new contracts will help ensure that Verizon employees continue to receive solid wages and excellent health-care and retirement benefits," Marc Reed, Verizon's chief administrative officer, said in a statement. Chris Shelton, president of the CWA, called the contract a victory for working families.
The strike by the CWA and the International Brotherhood of Electrical Workers had been one of the largest in the U.S. in recent years. Labor Secretary Thomas Perez Perez helped broker the deal by bringing Verizon Chief Executive Officer Lowell McAdam and two union executives to Washington on Sunday, May 15, to discuss ways to resolve the dispute.
The labor standoff pushed the number of striking U.S. workers to the highest in more than four years and could depress the May jobs numbers slated for release next week, data from the Labor Department showed.
Strike's Effects
The strike has had a more mixed financial impact on the company. While Verizon saved on wage payments to striking employees, the slowdown in operations was a drag on the company's landline business, Chief Financial Officer Fran Shammo said during an investor presentation on May 19. That probably means there will be no net new gains in FiOS TV or broadband customers in the quarter, he said.
"In the end, it looks like everyone wins," said Roger Entner, an analyst with Recon Analytics LLC. "The employees will get an increase over four years, which is a year longer than originally proposed. And Verizon can get all its employees back to work, including those that had been filling in on the landline side."
The new labor deal is the first since Verizon took full control of Verizon Wireless and agreed to buy AOL, two deals worth almost $135 billion that point toward a wireless-centric future. The company has been shedding union-heavy operations, including its FiOS business in three states last month. Landlines accounted for 29 percent of Verizon's revenue, down from almost 50 percent in 2008. And as its strategy has shifted, the ranks of union workers have shrunk by about half from 78,000 13 years ago.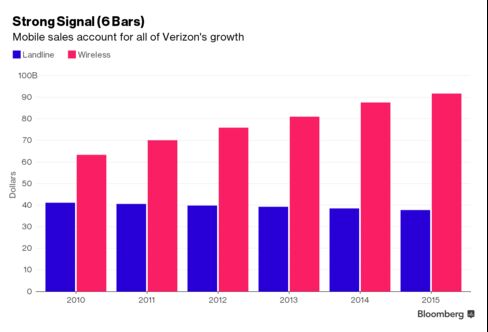 Facing years of declines in the landline unit as more people opt for only wireless service, Verizon pushed to have union workers agree to temporary job relocations. The unions, which had been working without a contract since Aug. 1, wanted to limit those transfers of workers to other regions, protect jobs from being moved offshore and preserve pension increases.
Of the workers, about 29,000 are represented by the CWA and 10,000 by the IBEW, the CWA's Johnson said.
"This might be the last big strike for Verizon because wireline will have less and less leverage in an increasingly wireless business," Entner said.
Before it's here, it's on the Bloomberg Terminal.
LEARN MORE