Bidvest Foodservices Spinoff Leapfrogs Parent's Market Value
Bid Corp rises to $6.5 billion market cap on debut trading day

Parent company now less than half the size of spun-off unit
Bid Corp Ltd., the foodservices business spun off from Bidvest Group Ltd., rose to more than double its parent's market value on the company's first day of trading, showing investors' preference for South African stocks with greater international exposure.
Bid Corp. shares started trading on the Johannesburg Stock Exchange at 270 rand and rose 13 percent to 304 rand by the close, valuing the company at 102 billion rand ($6.5 billion). Bidvest, which will now focus on services such as car rental, freight and office management, is valued at 40 billion rand.
"I was slightly surprised to see the big value difference between Bid Corp. and Bidvest shares," Michael Treherne, a portfolio manager at Johannesburg-based Vestact, which holds both stocks, said by phone. "It just shows you the value that people are giving to offshore assets compared to South African assets."
The combined market capitalization of the two companies is about 142 billion rand. That's about 15 percent higher than Bidvest's closing value of about 124 billion rand on Friday.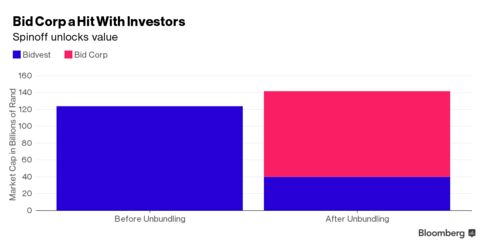 The foodservice unit accounted for 60 percent of Bidvest's sales in the six months through December and about 45 percent of trading profit, according to the company's Feb. 29 earnings report. The split, in which investors received one Bid Corp. share for every Bidvest share held, will help management focus on their respective businesses and identify and pursue growth opportunities, including acquisitions, according to an April statement.
Bid Corp. has businesses from catering to food-processing, and operates in more than 40 countries, according to the company's website. While Bidvest is mainly present in Southern Africa, it's pursuing opportunities internationally, Chief Executive Officer Lindsay Ralphs said last month.
The listing on the Johannesburg Stock Exchange "positions us superbly for our next phase of organic and acquisitive growth," Bid Corp. Chief Executive Officer Bernard Berson said in an e-mailed statement. "The focus we now have as a standalone company will strengthen management's determination to continue generating and enhancing sustainable, long-term returns for all stakeholders."
Before it's here, it's on the Bloomberg Terminal.
LEARN MORE