Mizuho CEO Says Higher Fee Income Will Offset Negative Rates
'Non-interest income will grow significantly,' Sato says

Fees from pensions and bond underwriting to support profit
Mizuho Financial Group Inc. is counting on fee businesses to make up for lower returns from lending and bond investments in the wake of the Bank of Japan's negative interest-rate policy.
"Non-interest income will grow significantly as we move into new businesses" in the negative-rate environment, Chief Executive Officer Yasuhiro Sato said in an interview at the bank's Tokyo headquarters last week. Sato said this could offset the 40 billion yen ($365 million) that he expects the BOJ's policy will shave off income from businesses such as lending this fiscal year.
With returns from lending diminishing, Mizuho is forecasting profit will decline 11 percent this fiscal year, underscoring why it's seeking to boost income from areas such as investment banking, trust banking and brokerage services. The Tokyo-based bank has bolstered its securities operations by hiring staff at home and abroad, particularly in the U.S., where it is trying to gain market share by capitalizing on other firms scaling back.
For a QuickTake explainer on negative interest rates, click here.
One business that can benefit from low interest rates relates to corporate pension funds, according to Sato. With low rates increasing the costs that employers must pay for pensions with fixed benefits, many companies are switching to defined-contribution plans, the Japanese equivalent of a 401k, he said. The group's trust bank earns fees for setting up such plans for the banking unit's customers.
"One of our strengths is the ability to generate income by cooperating among our group bank, trust bank and securities functions," Sato said.
Mizuho is already losing money from lending, according to one measure of loan profitability. Its net interest margin -- the amount the main banking unit makes from interest-earning assets after subtracting interest paid on deposits and expenses -- has been negative for three consecutive years, and was minus 0.09 percent as of March 31, company earnings statements show.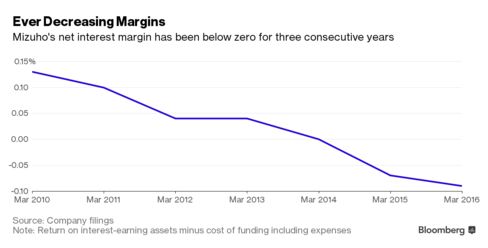 Banks remain the worst performers on Japan's benchmark Topix index this year. Shares of Mizuho fell 0.1 percent at 10:49 a.m. Monday in Tokyo, taking this year's decline to 30 percent. The Topix Banks Index has lost 27 percent.
Mizuho is also looking to generate more fees in the U.S. after it bought assets from Royal Bank of Scotland Group Plc and hired bankers from the British firm last year, a move that has boosted its share of the bond underwriting market.
For more on Mizuho's U.S. expansion, click here.
The acquisition is succeeding "beyond expectations," Sato said. "Taking on 120 bond- underwriting professionals from RBS has propelled us to ninth from 14th" in the U.S. investment-grade corporate debt market, he said, adding that he wants to get into the top five.
Fees made up 910 billion yen of Mizuho's gross profit in the year ended March, exceeding its 780 billion yen in interest income. The lender, Japan's third largest by market value, expects interest income will fall 6.5 percent over the three years of its medium-term plan that started in April, while non-interest income will rise 20 percent.
Before it's here, it's on the Bloomberg Terminal.
LEARN MORE