Citigroup Chases Japan Hybrid Debt Deals Used to Protect Ratings
Cost to fund M&A may rise without credit protection: Fujikawa

Mitsubishi Corp. sold equity-like debt, Mitsui planning loan
Japanese companies are likely to consider more debt sales that count toward equity as a stronger yen threatens to damp earnings and put pressure on ratings, according to Citigroup Inc.
"If companies don't take steps to protect credit ratings, if there's a large M&A deal in the future, their capacity to raise debt may be hampered and funding costs may be higher," Daisaku Fujikawa, the head of capital markets origination at Citigroup Global Markets Japan Inc., said in an interview. "It costs more to sell subordinated bonds than regular notes, but interest rates are low now. It's gotten easier to talk to issuers."
Mitsubishi Corp. sold 200 billion yen ($1.8 billion) of so-called hybrid notes to investors last year in the first such placement by a Japanese corporate issuer in the domestic market. Prior to that, financial companies were the only issuers of the securities, which are subordinated to senior debt and counted partially as equity by rating companies. Mitsui & Co. said this month it will borrow 350 billion yen in a subordinated loan and expects 50 percent to be regarded as equity by ranking firms.
Companies can now sell debt with equity characteristics at prices similar to what they paid for senior bond offerings in 2012, before Bank of Japan Governor Haruhiko Kuroda took the reins and started unprecedented monetary stimulus three years ago. If Prime Minister Shinzo Abe decides to delay a planned sales tax increase, that may also result in corporate downgrades should the sovereign ranking be cut, according to Fujikawa.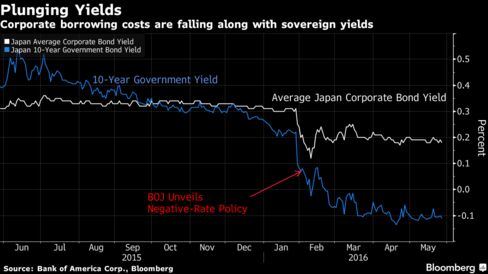 Japan needs to postpone the consumption tax increase until late 2019 to sustain its economic recovery, Abe aide Hakubun Shimomura said on Fuji television on Sunday.
Citigroup has managed more than $2 billion in sales of dollar-denominated notes by Japanese borrowers so far this year, including issues by Mizuho Financial Group Inc. and Sumitomo Mitsui Financial Group Inc. aimed at meeting requirements to create buffers that can be used in a bank resolution. Japan's three biggest lenders including Mitsubishi UFJ Financial Group Inc. could each sell about $9 billion in such bonds in the U.S., known as total loss-absorbing capacity-eligible debt, this year, Fujikawa said.
Hybrid notes sold by Mitsubishi Estate Co. that mature in 2076 yield about 1 percent, according to data compiled by Bloomberg. That compares with an average interest payout of 0.18 percent on domestic bonds, Bank of America Merrill Lynch data show.
For a recent story on Japanese corporate bond sale trends, click here.
Japanese company note offerings fell 20 percent to 7 trillion yen in the 12 months ended March 31, according to Bloomberg-compiled data. Issuance may drop about 20 percent again this fiscal year as companies look to cut debt and banks compete to lend, Fujikawa said. Citigroup, the seventh-ranked underwriter in the nation, helped manage Nissan Motor Co.'s 125 billion yen bond deal last month.
Mitsubishi UFJ Morgan Stanley Co., the nation's biggest corporate-note underwriter, said last month it sees sales increasing this year as declining yields make capital markets more competitive compared with bank loans.
"If you look at earnings releases now by companies or mid-term management plans, a lot of them are talking about cutting debt," said Fujikawa. "It isn't a mistake as a strategy to keep strength in store for future M&A and the like, I think."
Before it's here, it's on the Bloomberg Terminal.
LEARN MORE