Vestas CEO Says 'Incredibly Positive' U.S. Market Prompts Review
Vestas Wind Systems A/S is revising its forecasts after a U.S. decision on tax credits for renewable energy companies bolstered its position in the world's largest economy.
"Right now we, as well as our clients, are very active and looking into the new conditions," Chief Executive Officer Anders Runevad said in an interview in western Denmark on Thursday. The decision to extend the current tax credit framework by five years is "incredibly positive," while a subsequent clarification by the Internal Revenue Service means the outlook is "more favorable than what was probably projected," he said.
The shares rose as much as 2.5 percent after trading 0.7 percent lower at the open in Copenhagen. The gain added 3.3 billion kroner ($500 million) to the market value of the world's largest wind-turbine maker.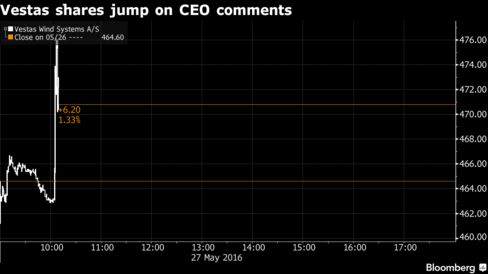 Bloomberg Intelligence estimates that about 41.3 percent of Vestas's revenue last year came from the Americas. "Now, we're eying a stable market in the U.S. for a considerable future," Runevad said. "Until 2020 we're looking at a very good and stable market which we haven't had at all previously."
Vestas will probably wait until after the second quarter to comment on the full effect of the U.S. tax credit decision, Runevad said.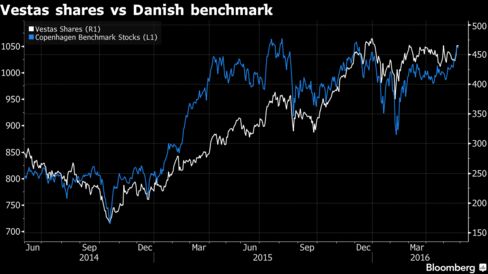 "We're first and foremost going to look at what we think of the market volume and then we don't comment on orders until they're firm," he said. There is a chance Vestas will be ready to give its updated comment on the market in its second-quarter report, "and if not then in the third quarter," he said.
For a Bloomberg Intelligence piece on Vestas' lobbying in the U.S., click here.
"We're happy and positive about this five year extension as well as the clarification by the IRS a few weeks ago on safe harbor qualification and continuous construction," Runevad said.
Before it's here, it's on the Bloomberg Terminal.
LEARN MORE