Pemex Willing to Sell Jack-Up, Platform to Generate Liquidity
Sale of mature production assets an option to raise funds

Producer continues with plans to divest "non-core" assets
Petroleos Mexicanos is seeking buyers for two aging production assets as it looks to generate liquidity amid the industry's biggest financial crisis in history.
Mexico's cash-strapped state-run oil producer would sell its Holkan jack-up rig and its Chemul semi-submersible maintenance platform for the right price, said Gustavo Hernandez, director of prospective resources, reserves and associations at the company's exploration and production arm.
"If the opportunity is presented or a buyer emerges, Pemex would sell" the assets, Hernandez said in an interview on the sidelines of the Institute of the Americas energy conference in La Jolla, California. "Without question, it is an opportunity for Pemex."
The two assets, both constructed more than 30 years ago, are no longer in operation but could be put to use by a potential buyer, he said. Hernandez declined to say whether the company has held talks with any would-be buyers or what terms it would seek.
Cash Crunch
The Mexican oil producer has reported losses for 14 consecutive quarters and amassed more than $93 billion in debt excluding pension liabilities as of the first quarter. The company has reiterated for several months its plans to sell assets and form joint ventures to generate cash and boost declining crude production.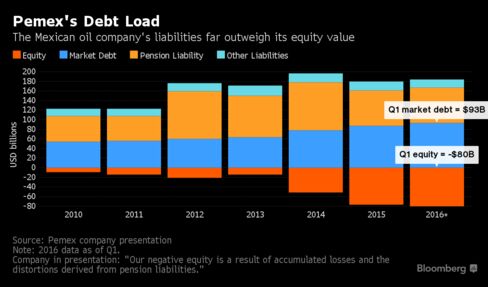 Mexican President Enrique Pena Nieto announced in February a change in the company's leadership, with incoming Chief Executive Officer Jose Antonio Gonzalez Anaya charged with speeding up the company's partnerships with private companies.
Pemex is in the process of determining which of its "non-core" assets it will sell and where to seek partners, Hernandez said.
"Partnerships for us is the name of the game," Hernandez said during a presentation at the conference. "We have had many meetings with many oil producers that have visited Pemex because they would like work with us as their partner of choice."
JV Plans
Pemex is looking for joint venture partners in 17 areas that include shallow, deep water, extra heavy crude and onshore fields, Hernandez said in the interview.
The company is eyeing its potential first farm-out partners in the Ogarrio, Cardenas-Mora and Rodador onshore fields, which contain an estimated 217 million barrels of oil equivalent. The fields have been producing for more than 10 years and will require additional capital to boost declining output, he said during the presentation.
"These fields are still showing a lot of potential and we would like to take advantage of that," Hernandez said in the presentation. Pemex expects to make the first JV announcements as soon as this summer, Hernandez said.
Before it's here, it's on the Bloomberg Terminal.
LEARN MORE