LendingClub Upheaval Threatens U.K. Market Poised for Takeoff
Investors seen reassessing risk-reward of peer-to-peer loans

British P2P platforms say they're safer than U.S. firms
The scandal engulfing LendingClub Corp. hit Britain's peer-to-peer lending market just as it was getting ready to go mainstream.
QuickTake Peer-to-Peer Lending
In April, the U.K. government deemed that loans created through online platforms that match borrowers and lenders represent a new asset class safe enough for households to invest in tax-free. That promised to boost Britain's industry, which is about a fifth the size of the U.S.'s.
Since then, events at the largest U.S. peer-to-peer lender have sown doubts about the model worldwide. The surprise resignation of LendingClub CEO and co-founder Renaud Laplanche on May 9 following an internal review sent the firm's shares plunging and triggered probes by regulators. The episode is clouding the growth prospects for Britain's firms as well, as investors reassess the risks and rewards of online loans.
"LendingClub is the leading light in the sector so if it's not following best practices to the letter, then investors are going to assume that second- and third-tier platforms are doing the same thing," said Cormac Leech, a senior analyst at Liberum Capital Ltd., a London-based investment bank. "Investors are going to cool on the U.K. market until the dust settles."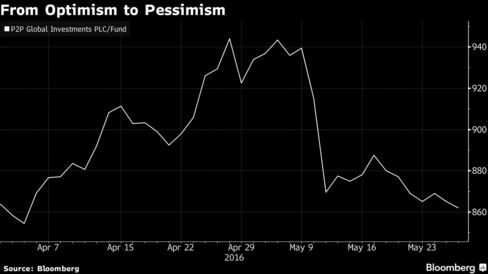 P2P Global Investments Plc, a publicly traded fund that institutional investors use to bet on British online loans, is down about 8 percent since the news emerged from LendingClub. Also casting doubt on the growth outlook, Deloitte LLP predicted in a report this week that marketplace lending may amount to just 1 percent to 6 percent of Britain's 600 billion pounds ($874 billion) in total loans by 2025, hardly a revolution in banking.
For a quick guide to the P2P lending industry, click here.
Proponents of peer-to-peer lending, which links online communities of borrowers and savers, say the industry's lower costs and its use of the latest technology to speed the loan-approval process will transform banking.
Britons, who pioneered that type of lending a decade ago, bridle at comparisons with LendingClub, and say better regulation, greater transparency and less reliance on Wall Street funding will shield their platforms from the U.S. turmoil.
The firms approached the Financial Conduct Authority in 2014 about regulating the industry as a way to build credibility with investors. The watchdog obliged, directing marketplace lenders to inform customers how they evaluate risk, and to ensure investors can keep collecting loan payments even if a platform fails. The top firms also agreed to publish their loan books on their websites, a type of industry-wide transparency the U.S. Treasury Department is advocating for American firms.
Fundamentals Unchanged


The FCA hasn't begun a review of the U.K. industry following the events at LendingClub, said a person with knowledge of its position who asked not to be identified. The regulator declined to comment.
"Everything we've done is in contrast to what's happening in America," says Rhydian Lewis, the chief executive officer and founder of RateSetter, the No. 3 platform in Britain, with some 1.2 billion pounds in loans issued. "The fundamental benefits of peer-to-peer lending haven't changed overnight -- this is still a good business."
Last year, investors on RateSetter's site earned a net return of 4.9 percent, and 1.3 percent of loans defaulted, according to the company.
The LendingClub episode comes after Chancellor of the Exchequer George Osborne added the online loans to the government's Individual Savings Account program, a way to help consumers save money and spur lending to small and mid-sized companies. ISAs have 483 billion pounds of assets, roughly equivalent to a quarter of Britain's gross domestic product. The FCA has already granted eight platforms licenses that will allow them to join the program, and more are in the pipeline.
Jumping In
Some investment firms are jumping into the arena. Hargreaves Lansdown Plc, the largest retail broker in the U.K. with almost 59 billion pounds under management, is building its own peer-to-peer platform. By December, the firm's 783,000 clients will be able to lend to small businesses and consumers and earn tax-free income on up to 20,000 pounds of funds deposited into an ISA each year.
"We are absolutely making sure that what we are launching is something that is attractive to clients and that the risks are managed," says Danny Cox, a financial planner and spokesman for Hargreaves.
'Black Box'
Yet skeptics such as Adair Turner, a former head of Britain's financial watchdog, warn this combination of technology and finance will end badly. The websites use their own algorithms to rapidly score the credit risk of borrowers and match them with lenders. While this innovation enables small businesses or households spurned by banks to tap alternative sources of capital, the model remains largely untested.
"We don't know whether that black box will work or not in an economic downturn," said Peter Baeck, the head of collaborative economy research at Nesta, a London-based foundation that studies innovation.
British institutions including Aviva Plc and Legal & General Group Plc, the country's two biggest managers of pension assets, have no plans to invest in the space yet, saying peer-to-peer loans are still a niche product.
Too Soon
"We want to be the P in P2P, but just not yet," Legal & General CEO Nigel Wilson told Bloomberg. "We are thinking about it, but it's still in its early stages. There isn't that institutional wrapper yet, the backing of big institutions like us, which will help make it safer."
Fund managers including Neil Woodford have backed the industry, which is able to make loans in days instead of weeks. Peter Michaelis, the head of investments at Scottish investment firm Alliance Trust Investments, reckons the LendingClub episode represents a growing pain in an immature industry.
"There is definitely a role for P2P lending within the economy," says Michaelis, whose firm holds about a 2 percent stake in P2P Global Investments. "It doesn't mean that there won't be defaults and things going wrong in the space -- nothing is risk free."
Before it's here, it's on the Bloomberg Terminal.
LEARN MORE