Colombia Lifts Key Rate to 7.25%, Cardenas Sees Cycle Ending
Retail sales unexpectedly slumped the most since 2012

Policy makers have raised borrowing for nine straight months
Colombia's central bank limited its ninth consecutive interest rate increase to a quarter point after inflation unexpectedly eased and evidence grows that the economy is cooling faster than forecast. Finance Minister Mauricio Cardenas, who chairs the bank's policy meetings, said the phase of monetary tightening is probably near its end.
The seven-member board voted to raise borrowing costs to 7.25 percent, according to the bank's statement. The decision, which was not unanimous, was forecast by 23 analysts surveyed by Bloomberg, with three predicting a half-point increase and six predicting no change.
"As things stand today, and excepting surprises, it is my opinion that the cycle of interest rate increases should be at an end, or nearing its end," Cardenas told reporters in Bogota after the meeting.
Central bank co-director Adolfo Meisel said in an interview this month that policy makers are weighing the danger of an "abrupt" drop in the growth rate against the risk that inflation returns to target more slowly than forecast. The bank said in today's statement that it sees a "moderate" risk of an excessive slowdown in demand.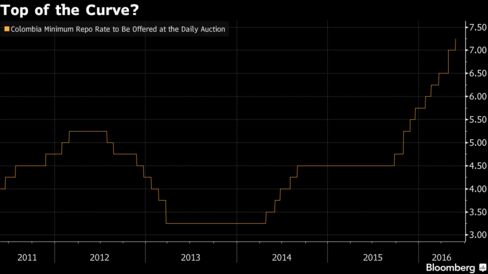 Slowing Down
"The definitive end of the cycle is nearer because everyone in the market, and the bank's economists and the minister think that inflation is going to start to slow," said Sergio Olarte, an economist at BTG Pactual's Colombia unit, who correctly predicted today's decision. "Also, the economic activity data are starting to come out weaker."
Retail sales fell 2.9 percent in March, the biggest decline in four years, while industrial output grew less than expected and consumer confidence remains weak after falling to its lowest since 2002 earlier this year.
Inflation is also showing signs of easing. The annual rate fell to 7.93 percent in April after reaching a 15-year high the month before. Price rises were stoked by a drought that hit food supplies, and a 37 percent weakening of the peso over the past two years, which has boosted import costs.
Two-year inflation expectations fell to 3.35 percent in May, according to a central bank survey of economists, from 3.56 percent the previous month. Colombia targets inflation of 3 percent, plus or minus one percentage point. The bank aims to keep inflation expectations "anchored" close to its target, since these play a key role in wage negotiations and price-setting decisions.
Mechanism Scrapped
Bank Governor Jose Dario Uribe said today that the bank is scrapping its foreign exchange intervention mechanism, saying it had many other ways of influencing the exchange rate
The bank said in February it will auction foreign-exchange call options when the official exchange rate known as the TRM weakens 3 percent or more from the 20-day moving average, down from a previous level of 5 percent.
The mechanism was triggered on May 20, leading the bank to offer $500 million of the options, of which it sold $411 million. The bank also sold $255.6 million on the first three days of this week as the options were exercised.
Before it's here, it's on the Bloomberg Terminal.
LEARN MORE