Hottest Commodity of 2016 Is Chicken Feed Amid Supply Woes
Corn farmers, ethanol makers benefit from soybean-meal rally

Livestock producers are seeking cheaper alternatives to meal
This year's best-performing commodity is chicken feed. And cow food.
Soybean meal, made from crushed soybeans and used to feed poultry and livestock, has jumped 54 percent in 2016, the biggest gain among the 22 components of the Bloomberg Commodity Index. Prices are soaring after flooding reduced crops and limited supplies from Argentina, the world's biggest exporter of the meal. Meanwhile global meat production will rise to a record, stoking demand.
The rally in meal prices is boosting margins for soybean processors including Archer-Daniels-Midland Co. It's also spurring some livestock owners to seek cheaper alternatives to the meal, such as corn. Sanderson Farms Inc., the fourth-largest U.S. chicken producer, said Thursday it's holding off buying both soybean meal and corn because the rally is, speculative, "temporary" and will end in June.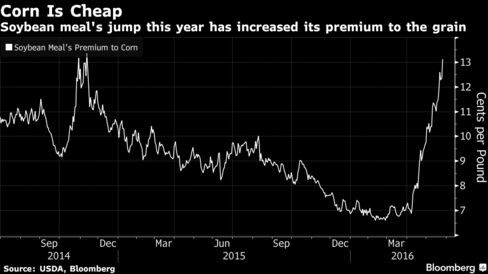 Even as corn demand grows, the grain is still cheap relative to soybean meal. The commodities are trading in the widest spread since November 2014.
To read an interview with the CEO of Sanderson Farms, click here.
"Livestock producers will use as much corn as possible because of its discount to soybean meal," said Mark Schultz, the chief analyst at Northstar Commodity Investment Co. in Minneapolis.
Soybean-meal futures for July delivery were little changed at $409.10 per 2,000 pounds on the Chicago Board of Trade on Friday. Prices reached $419.80 on Thursday, the highest since June 2014.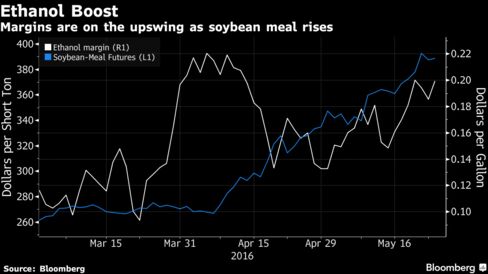 The gains for meal mean that U.S. ethanol producers are also enjoying better margins. Distillers dried grains with solubles, or DDGS, are a byproduct of the process to make the biofuel and can be fed to livestock and poultry. The price of the protein, which represents about a quarter of ethanol-plant margins, is at the highest since August. Like corn, DDGS are still cheap relative to the soy product and are an attractive alternative.
"It's icing on the cake," for ethanol makers who are also seeing improving demand for the gasoline additive as oil prices rally, said Chris Wilson, an analyst at Atten Babler Risk Management in Galena, Illinois. "They're kind of in the sweet spot."
Before it's here, it's on the Bloomberg Terminal.
LEARN MORE